It's a hidden secret that Ludlow, Proctorsville, Cavendish, and other nearby towns in Southern Vermont are great places to spend a bit of springtime.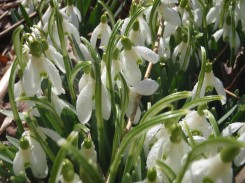 That could mean a road trip, a getaway, or a family vacation during spring break.  New England is known for its muddy spring season, which can sometimes be cold… But Southern Vermont is beating mud season with improved roads and cars.  The forsythia, crocuses and daffodils are blooming as robins search the ground for worms.  Fresh spring breezes and blue skies remind us summer is just around the corner.  Behind the occasional dirt and rain, there are tons of reasons to love Vermont in the spring….especially if you are a guest of Golden Stage Inn!
Honey Bee Installation at Golden Stage Inn B&B

See The Spitfire Grill at Northern Stage

Build a Living Willow Structure at Fletcher Farm School for the Arts

Billings Farm & Museums Opens May 1st

"Get the most from your garden" talk with Evening Song Farm

May 24th is Opening Day at President Calvin Coolidge State Historic Site

Girls and Guns Weekend at Golden Stage Inn!
Honey Bee Installation: the date is not exact, but if you're interested in seeing honey bees introduced to their new homes, contact the innkeepers for more info!  The honey bees will arrive around the second week of May.  Once the flowers start to open up, you'll be able to tour the hives (or watch a hive tour from indoors!).  We can't wait for this year's honey harvest and another season of backyard beekeeping adventures.
The Spitfire Grill is a new musical at Northern Stage, and will be running through May 4th.  Based on a movie and book, the Spitfire Grill tells the uplifting story of small town camaraderie through song and drama.  The musical won the Richard Rogers Award.  Check out the preview below!
[youtube]http://youtu.be/xMKMbemWKMY[/youtube]
Living Willow Structure Class will be taught by Bonnie Gale, who appeared on Martha Stewart in 2010 for the Cultivating Life Show.  The class goes from 9-4 on May 24th and 25th at the Fletcher Farm School for the Arts and Crafts.  Students will practice making a joint structure on a living fence.  Then, they will make an individual living willow arch to take home!
Billings Farm & Museum opens up again in May!  Watch sheep-shearing and herding with Border Collies on May 3 & 4.  Celebrate VT dairy on Memorial Day Weekend, May 24th and 25th.  You'll sample delicious Vermont cheeses, learn to make ice cream, churn butter, and meet local cheese makers.  Billings Farm is located in Woodstock and is about a half hour drive from our Bed and Breakfast in Ludlow, VT.
Gardening Talk with Evening Song Farm will be useful and interesting.  Held at Cavendish Fletcher Community Library, within walking distance of Golden Stage Inn B&B.  Evening Song Farm is a successful CSA operation located near Rutland VT.
Explore President Calvin Coolidge Historic Site, opening on Memorial Day weekend!  The Killington Stage Race will be fun to watch, and you can see the new exhibit "The Coolidges, Plymouth, and the Civil War."
And last but not least, experience Girls and Guns Weekend! You'll get two night's lodging for two people (including delicious breakfasts and treats of course).  Plus, we'll provide one fully paid for admission the the Women on the Range course, hosted by Black River Valley Rod and Gun Club.  Learn to shoot rifles, shotguns, pistols and bows and arrows with other women.  All adventure-seekers, outdoors enthusiasts, and wannabe hunters will love this unique Vermont Inn special.  See our Girls & Guns Specials Page for further info!
[youtube]https://www.youtube.com/watch?v=br56-9EVJQs[/youtube]