The Vermont Floods of July 2023
As many of you have seen in the news, our little communities of Ludlow, Weston, and Proctorsville were just a few of the many regions in Vermont that got hit hard with the recent deluge of rain. At our small lodging property just a couple miles from Okemo Mountain, we were lucky enough to remain safe and dry, but our hearts go to our neighbors and friends who have been hit so hard by the storm.
We were warned on Sunday July 9 that there was a flood watch in effect. By then, we had already heard that earlier in the weekend Killington / Rutland had experienced some isolated but severe washouts, but we weren't too concerned. It was the rain overnight (Sunday into Monday) that truly alerted us that something bad was underway. It rained so hard, so much, so long. The kind of rain you only experience a couple times in your life. So we weren't surprised when we woke to announcements of road closures – but we still planned our day normally and went on our way. The rain continued. And the road closures continued. We got home from our unavoidable appointments in New Hampshire as quickly as possible, getting detoured in a few spots along the way. We nudged our adult daughter to leave her work day early so that if Proctorsville became isolated, she would be on our side of the road closures. We hunkered down and listened to the rain.
Throughout the evening, we received three stranded travelers, each entering in their own state of stress and fatigue, each eventually relaxing and easing once they realized they were safe and dry. We enjoyed an impromptu pasta dinner together. It was during dinner actually that the third traveler arrived. He had driven north through Proctorsville gulf on Route 103 trying to get to his home in Ludlow. Once he accepted that he couldn't get to his property, he turned around and tried leaving the same way he came in, but alas a mudslide had occurred on Route 103 in the short time he was driving. There was absolutely no getting out. The rain had stopped, but so had any travel plans for the night.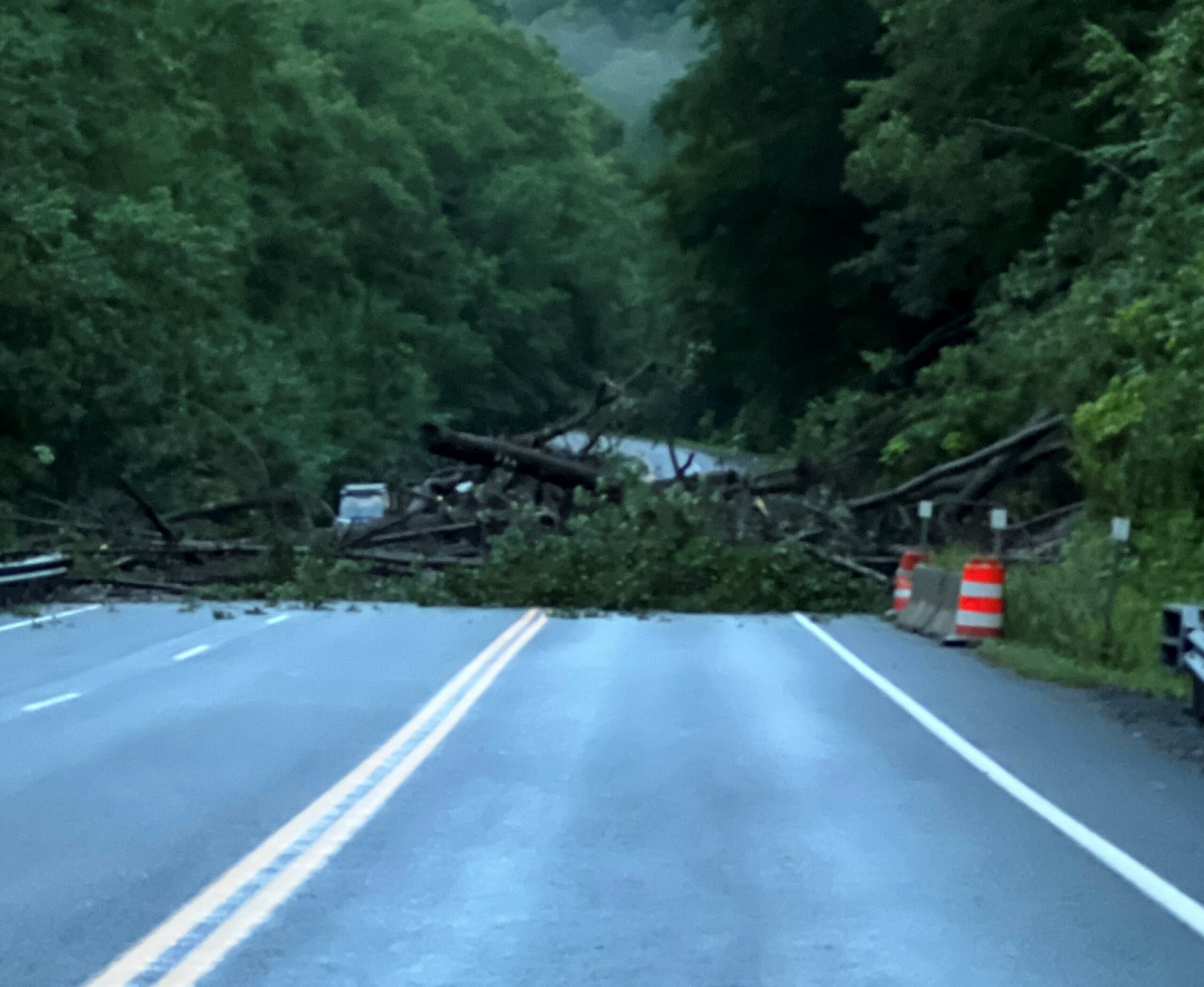 Aside from this one picture of the Gulf, we will resist the temptation of loading up the tons of pictures of flooding that we took and that were shared with us, but if you haven't seen the visuals yet of this flood, just a quick search of 'Ludlow Vermont floods' on YouTube will allow you to glimpse what the community is working through. We'll also share links to two videos of our own village of Proctorsville, taken just a half mile from the inn. The first is before the flooding hit its worst, and the second is the very next day after the water made its speedy departure. In the first video, you may recognize Outer Limits Brewery at 1:37, Murdock's on the Green at 1:48, Singleton's General Store at 2:19, and our beloved little ballpark, Greven Field, at 3:07. Similarly, if you watch footage of Ludlow and Weston online, you'll likely recognize so many of the buildings as places you've shopped, dined, and visited.
While the destruction left behind by the floods is sensational and tragic, the part of the story here that deserves the real attention is not the devastation but the recovery efforts. Water is powerful, but the incredible drive for humans to help other humans in a time of crisis is even more so. As innkeepers of over 12 years, we have witnessed three "once in a lifetime" events – the 2011 flooding of Tropical Storm Irene, the pandemic, and now this Vermont flood. Each incident has triggered a community springing into action. Neighbors shovel out others' basements; homeowners hop in their heavy equipment and move mudslide debris; restaurants open their doors to feed the community for free. Our firefighters and rescue workers are not part of a large paid staff (who are all heroes in their own right), but our fire departments are local parents, workers, and teens who volunteer their time to train and prepare for the dreaded eventuality that their skills and generosity will be tapped. And here it is. We are so grateful to our local fire departments as they work endless hours to serve the community. They rescue stranded people and pets, bring drinking water and food to isolated residents, and they make the roads –and our immediate world – safer.
Facebook, a forum often avoided because of its rather toxic nature, is overflowing with public statements of kindness and gratitude. For example, the "Vermont 100 Endurance Race" was cancelled due to the impact of the flood, but the community welcomed dozens of the athletes anyhow, as they donated their time as volunteers to help residents clean out their homes. When an announcement is posted that a shelter is seeking paper plates, food or dehumidifiers, the response is overwhelming with drop-offs and gift cards. A picture was posted of pre-teens going door to door, delivering pizzas to the residents so hard at work cleaning out their basements of water, mud and silt. The pizzas were freshly baked from the Goodman's American Pie pizza truck, parked in Proctorsville village, there to serve slices to anyone who wanted them. Another facebook post was made simply to thank the local business owner who has hosted so many otherwise left-homeless residents in his lodging and at his restaurants. And so it goes, on and on.
Of course, one cannot be grateful for a flood that has brought so much hardship to an area. But it is in these dire circumstances that a community is able to show what it's really made of, who it's really made of. Vermont is a community of good people who know how to work hard and work fast. It is a community that cuts through the superfluous stuff and focuses on the real, on the essential, on what matters most. It is a tragedy for so many people to endure such hardship, but it is an honor to be in Vermont when that happens.