From all of us at the Golden Stage Inn B&B, Happy Independence Day!
Well, technically the 4th of July just passed, but the weekend has just begun and the festivities aren't over.  Vermont is the perfect place to spend Independence Day, and while yesterday (the real 4th of July) was a bit rainy, there is a bluebird sky today with clear breezes and temperatures in the 70s.  Vermont vacation-ers certainly won't have to worry about 'beating the heat' this weekend!!
Spending the 4th of July in Southern Vermont
Last night, I'd planned to see fireworks in Ludlow, VT but was thwarted by the rain!  Luckily, Saxton's River still had fireworks going off and the drizzle stopped just in time.  I stood in line for cotton candy, watched glowsticks being catapulted through the air by excited children, and enjoyed the fireworks.  It was a spectacular show.  If the day hadn't been so grey, I may have spent my entire 4th of July in Saxton's River -watching the morning parade, eating a lunch of Thai or Middle Eastern cuisine, and then dancing to fiddler's tunes at the Rec Area in the evening.
If you're thinking of spending next 4th of July in Vermont, consider visiting the Calvin Coolidge historic site or Billings Farm, which both have historical Independence Day events and activities.  Far from being antiquated, these events appeal to all ages and there is something for everyone.  Billings Farm & Museum hosts 'An Old Vermont 4th' every year from 10 am – 5 pm in Woodstock VT.  The organization puts on historic orations and music all day long, hosts old time-y crafts, and serves up some farmhouse fare including homemade ice cream.  Kids (and adults!) can participate in a gunny sack race, spelling bees and  visits to the farm animals.
Calvin Coolidge was the only American president born on July 4th, and is one of two presidents born in Vermont.  The Calvin Coolidge Presidential Foundation always puts on a great celebration for Independence Day to commemorate the birth of the USA and of President Coolidge.  This year's diverse events all sounded like a lot of fun.  History buffs enjoyed attending a group reading of Coolidge's autobiography and seeing the recent reproduction of the Coolidge family's woolen blanket.  Foodies munched on chicken BBQ at the Wilder House restaurant and sampled wine and cheese at the Plymouth Artisan Cheese Factory.  Kids and families took a ride on horse-drawn wagons.  Don't miss this event next year, and remember that you can tour the Coolidge homestead and historic site year-round.  After all, the site is just a short drive away from the Golden Stage Inn, and makes a great day trip!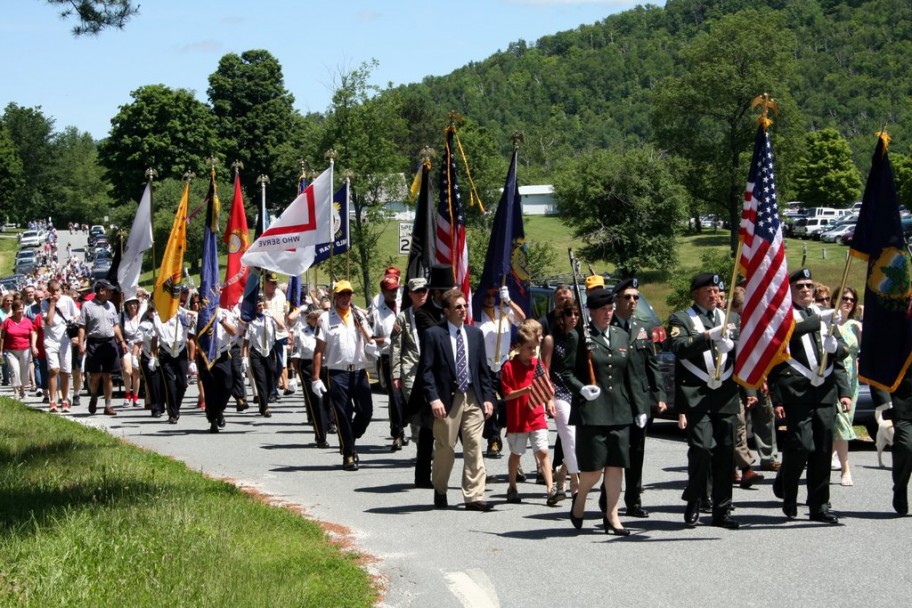 (Image courtesy coolidgefoundation.org)
Extending your Freedom – July 5th Events
The fun doesn't stop today, and there are tons of events happening within driving distance from Golden Stage Bed and Breakfast.  If you're looking for the excitement of fireworks tonight, look no further than Magic Mountain or Stratton Mountain, both in Londonderry, VT.  At 6 pm, Magic Mountain will proudly introduce The Butties, Vermont's premier Beatles cover band.  Stratton Mountain will have activities all afternoon long into the evening including face painting, dance demonstrations, live music, caricatures, hay rides, eating contests, and gondola rides.  See the full schedule of events here, and don't miss the grand opening of Green Apron, a brand new VT farm-to-table restaurant near the golf course.
Want to stay a little closer to your home away from home? (Golden Stage Inn, that is!)  Check out Fletcher Farm's Annual Arts and Crafts Festival, today from 10 am – 4 pm.  Over 90 artisans from across New England will have their high quality, original work on display.  Stop by to check out everything from paintings to dolls clothes, dried flowers to wood carving, glasswork to food…
Okemo Mountain hosts the Great American Party today, and while there are no fireworks here, you'll certainly have plenty of other things to keep you busy from 1-8 pm.  Barbeque, two free concerts, a waterslide, dunk tank, eating contest, midway games, and adventure zone will fill your day with fun.
Don't let the fire die…Fireworks in Ludlow on July 6th!
Although the rain last night caused the Ludlow fireworks to be cancelled, never fear because they have been rescheduled for Sunday, July 6th.  Fireworks are sponsored by Ludlow Streetscapes at West Hill Park.  The Chris Kleeman Band will entertain Vermonters and vacation-ers alike with fantastic rhythm and blues music, with fireworks slated to go off at dark around 9 pm.  You can stop for dinner first at one of Ludlow's many restaurants – Mr. Darcy's, the Killarney, Sam's Steakhouse, the Stemwinder, Downtown Grocery or DJ's.  If you want to enjoy Chris Kleeman's music, create yourself a picnic basket with treats from Wine & Cheese Depot and Singleton's General Store.  You might also ask Julie about Rex's Outrageous Road Crew Crunch available at Golden Stage Inn…