A new exhibit at the Montshire Museum of Science teaches us how our homes can become sustainable.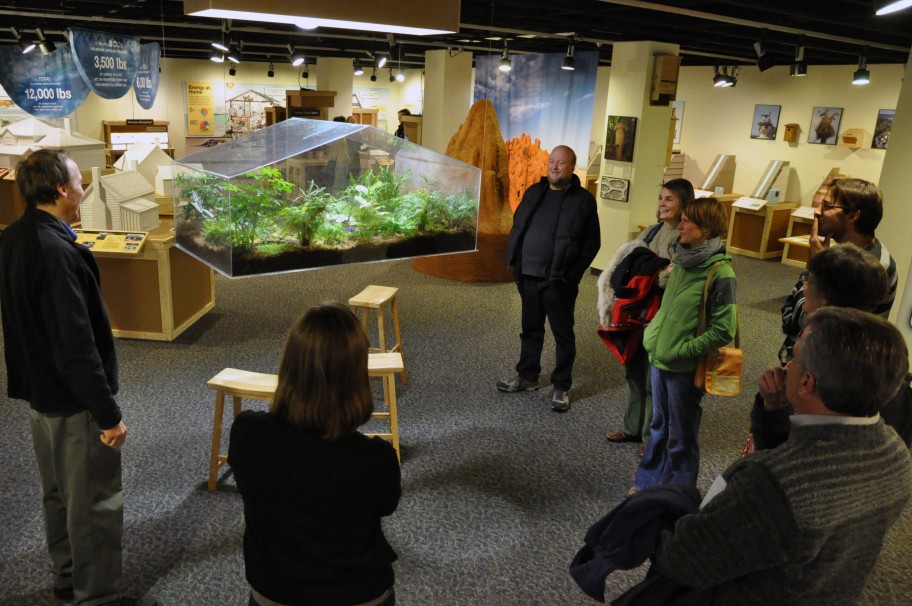 The Golden Stage Inn strives to be eco-friendly whenever possible, to create a lifestyle of low-impact traveling and give guests the option of choosing a sustainable inn.  That's why we can't wait to check out the new 'Sustainable Shelters' exhibit at Montshire Museum in Norwich, VT!
The Montshire Museum of Science is just 50 minutes away from our rurally located Vermont bed and breakfast.  Between February 1st and May 26th, the museum will feature an impressive exhibition entitled "Sustainable Shelter: Dwelling Within the Forces of Nature" created by the Center for Sustainable Building Research and the Bell Museum of Natural History at the University of Minnesota.  Visitors can explore how our homes can become more natural through two lenses; that of modern architectural green technologies and that of the the animal kingdom.  This is a fun-filled and educational trip for the kids, who will be sucked in by cartoons, games and interactive models.  Children can poke their heads into the living terrarium featured above, while parents learn about the life cycles of building materials and US water and energy consumption.  Animal nests and structures appear about museum, including a life-sized any colony and termite mound.  Participants can build their own sustainable homes, compare efficient architecture to 'typical' homes, and look at differences in dwellings across cultures and eras.
The Montshire Museum of Science is a riveting destination all year round.  For Vermonters and visitors alike, the 100-acre site is absolutely mind-opening no matter your age.  Wildlife can be spotted from the trails, and you can splash in the Science Park or step into space for a moment in the Planet Walk.  They offer an amazing variety of programs such as summer camps, talks and special events…on February 15th get ready for the annual Igloo Build, called the #1 Way to Winter Fun by Yankee Magazine! Attending this event would be taking low-impact dwellings to a whole new level. So head over to the Montshire Museum, and if a Green (Mountain) vacation to a sustainable inn is your idea of a guilt-free getaway, give us a call!
Here in our neck of the Vermont woods, we also strive to make ourselves a sustainable inn in a few key ways:
We love welcoming our guests to try the locally produced foods of Southern Vermont, including our own eggs and honey.
Leftover soaps are recycled through a program called 'Clean the World,' which reduces waste in landfills while providing sanitized soap to those in need.
We purchase green cleaning products and energy-efficient appliances.
Our amenities are of the "BeeKind" line, which minimizes environmental impact while donating a portion of profits to researching the plight of the honeybee.
As many of you know, we keep honeybees and promote education on the importance of local beekeeping to the survival of this important and delicate species.