Did you know the Golden Stage Inn is a member of Vermont Fresh Network and Green Hotels in the Green Mountain State?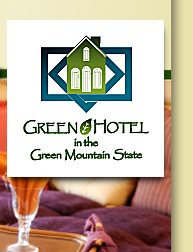 Our bed and breakfast is proud of making a commitment to being sustainable, green, eco-friendly…whatever the trendy term may be for caring responsibly about our environment! This means serving Vermont local foods and using green products at the inn. Being eco-friendly is especially important in the state of Vermont, where the natural beauty and wildlife of mountains, forests and waterways is central to VT identity. As a member of Green Hotels of the Green Mountain State, we recycle and compost as much as possible, in addition to buying recycled products when we can. Julie recently noticed that every cleaning product used at the inn is eco-friendly, a development to be proud of! Every time plumbing is redone, such as with toilets and shower heads, Golden Stage Inn uses low-flow appliances to replace old plumbing, thus conserving water. All these efforts are testament to an ever-evolving and continual effort to green our bed and breakfast business. Green Hotels of the Green Mountains must show "a commitment to pollution prevention and exemplary environmental stewardship," as the website says. We hope you can see this stewardship each time you stay at our Southeastern VT inn!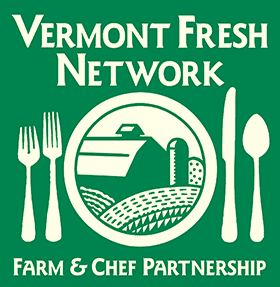 We are also pleased to be a part of the Vermont Fresh Network, which allows us to connect with many Vermont local food producers as we prepare breakfasts and goodies for guests. Some of our farm-to-table partners include Cabot Creamery Cooperative, Jersey Girls Farm Cafe and Market, Wellwood Orchards, and Crowley Cheese. The bacon served at breakfast is smoked just down the road at Singleton's General Store. Most importantly, we supply our own eggs, honey, and sometimes herbs from our backyard free-range hens and honeybee hives. Summer offers fresh local fruit and vegetables from farms in the Okemo Valley…and it would be blasphemous to not have an ample supply of Vermont maple syrup on hand for your morning pancakes and waffles!
For the Golden Stage Inn, sustainability is about more than Vermont local foods, green cleaning products and memberships. Sustainability is a mentality, a conversation, and a way of life. We hope you'll see for yourself that Vermont is committed to the environment in so many ways, and that our local connections and economies can do wonders to maintaining a safe and green world for future generations.