Okemo is not just for skiers anymore…
Maybe you've booked a ski vacation and the weather isn't what you'd hoped for downhill and cross-country skiing – pouring rain or extreme windchill.  Perhaps there's someone in your group who doesn't ski or snowshoe and is looking for different things to do.  Some families might have young children who can only spend half a day on the slopes, or want various activities and extra excitement.  There are plenty of reasons one might pursue winter activities in Vermont aside from cross-country and downhill skiing.  So, we've compiled a resource list of the many, many things to do at Okemo Mountain: kid's snowmobile tours, mountain coaster rides, snow tubing, ice skating, massage & spa services, fitness & pool center, snowcat excursions – even indoor golf!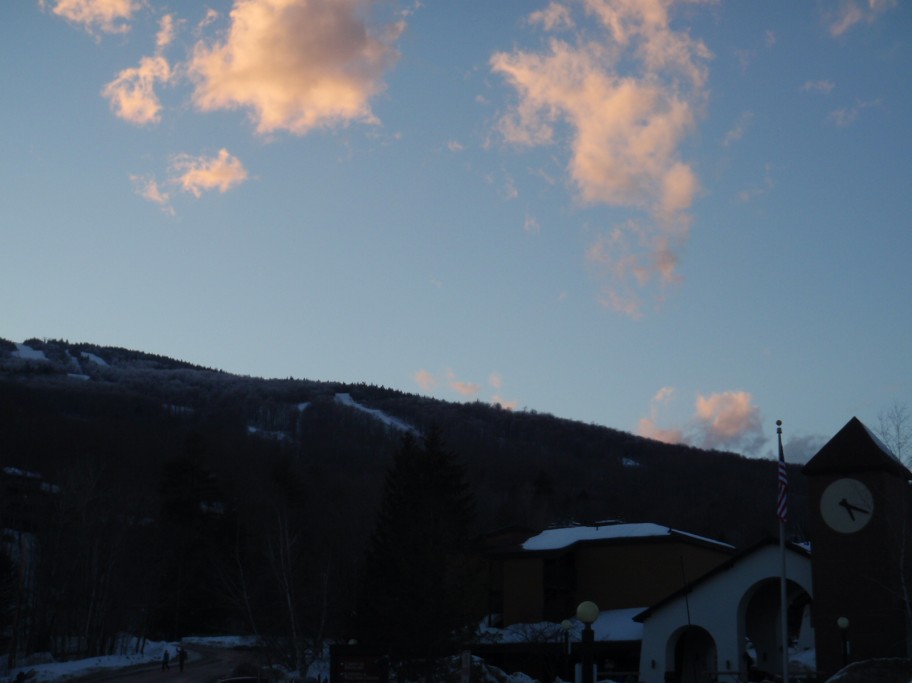 New this year: Kid's Snowmobile Tours
At Jackson Gore, kids can experience a snowmobile ride for $29.  Tours are 20 minutes, with 15 minute ride time.  There are only 4 sleds available per tour.  You can purchase tickets in advance, or when you get there at Jackson Gore's Resort Services desk.  Children between 5 and 12 years old, under 120 lbs and less than 5′ 4″ are eligible to ride.  More details here or by phone: 802-228-1600.
Through March 30th, the coaster is open on Sunday, Monday, Thursday and Friday from 11 am to 4:30 pm, and on Saturdays from 11 am to 6 pm.  Timber Ripper is also open for extended hours during holiday periods: from 11 am to 6 pm on January 18th, from 11 am to 6 pm February 14th through 21st, and from 11 am to 8 pm on March 14th.
Timber Ripper Mountain Coaster
Imagine flying smoothly through the air down a mountain, and you've got the Timber Ripper.  This mountain coaster operates out of Jackson Gore, taking off by the Coleman Brook Express Quad.  Each sled can hold two people, but you can go it alone as well.  To drive the sled, you must be over 48″, and to ride with a driver, a child must be over 36″.  The mountain coaster operates in most weather conditions, so it's an outdoor alternative to skiing that maintains a thrill-seeking element.  Call 802-228-1600 if you're wondering if the coaster will be running in the current weather.  Hours are the same as listed above for kids' snowmobiling.  
Pricing:
1 ride: $13 driver, $9 rider
3 rides: $36 driver, $24 rider
5 rides: $55 driver, $38 rider
10 rides: $100 driver, $72 rider
Indoor Golf Simulator
For golf lovers missing the course over the winter, keep up your game at Okemo's indoor golf simulator.  The course includes a 6,000 square-foot practice area, a putting green, three swing stations, and a locker room.  The simulator is booked fairly frequently during the winter, so call ahead to reserve your spot: (802) 228-1396.  You can reserve the course as a group of up to 16 players, or as an individual.  
Pricing:
Simulator Group Fees: $50/hour
Simulator Individual Fees: $30/hour
All-day access to hitting stations and putting green: $15
Hourly access to hitting stations and putting green: $7/hour
Snowcat Excursions
This is a unique opportunity to book a ride in a snowcat, which grooms the mountain's terrain.  On this hour-long journey, you'll get to see the mountaintop view of Vermont at night – lit up under a starry sky.  Seats are $39 per person – unless you want to ride shotgun, a privilege which will cost you an extra $10. Rides are weather dependent and consistently fill up; we recommend making your reservation several days before you plan to go.  (For example, if you plan on taking a Friday ride, call on Monday.)  Holiday excursions fill up more quickly, so reserve your spot at least a week in advance.  Call 802-228-1600 to book your spot on the tour.
Excursions leave from Jackson Gore on Tuesdays at 5 pm and 7 pm, on Fridays at 7 pm, on Saturdays at 5 pm, 7 pm and 9 pm.  There are special extra tours on MLK weekend and President's Day Week.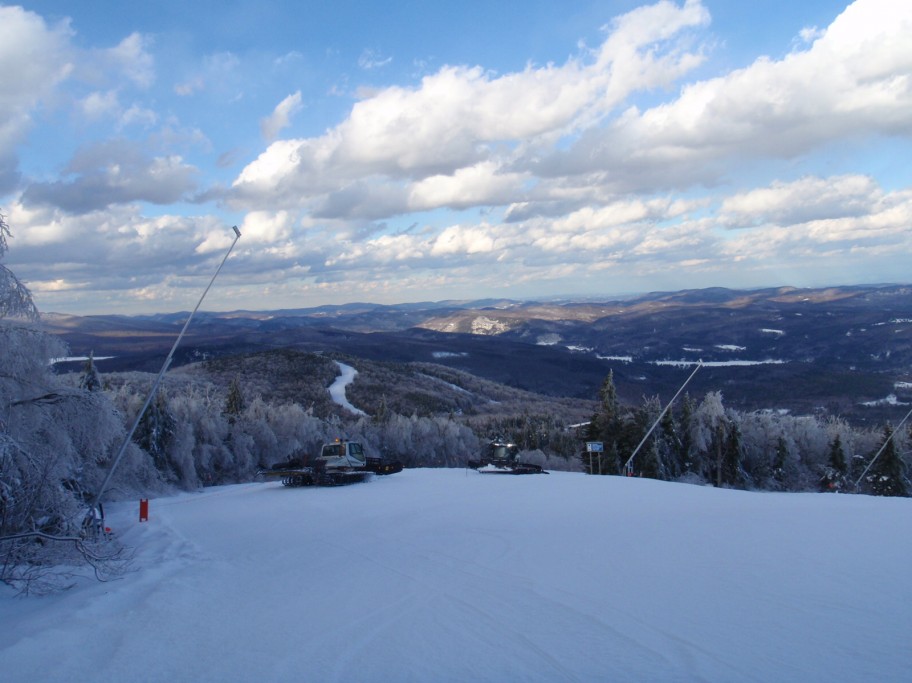 Snowcat Dining Adventure
An added layer of luxury to the typical snowcat excursion, this trip takes you to Epic, Okemo's fine dining restaurant.  Snowcat Dining Adventures are offered every Saturday night through March 7th, 2015, as well as Sunday, January 18th Craft Beer Dinner Special at Okemo and Sunday, February 15th.  Call 802-228-1600 to reserve your spot; $125 includes a snowcat ride and fireside 5-course meal (but does not include tax and gratuity).  You'll want to make your reservation about a week in advance, and perhaps even earlier during holiday periods.  Childcare is offered for $20 per child with the Kid's Night Out Program.
The Spring House
The Spring House has excellent indoor recreational facilities, including pools, exercise classes, spa services and a fitness room.  Contact the Spring House at 802-228-1419.   
Aquatics:  Open from 8 am to 10 am for lap swimming, and from 10 am to 9 pm for open swim, hot tub and splash pool.  Heated recreation pool, maximum depth 4.5 feet.  Heated splash pool for small children with fountain and slide, maximum depth 1.5 feet.  ADA-accessible hot tub.  You can host a pool party at the Spring House too, but only between April and Thanksgiving; call the number above for more info.
Fitness:  Open from 7 am to 9 pm.  Reserve time in the courts between 7 am and 9 pm to play racquetball or volleyball.  There are locker room facilities with saunas.  The Studio offers fitness classes of all types: Zumba, yoga, aquatics and kickboxing.  Check out the schedule and sign up by calling the number above.  The fitness room features ellipticals, treadmills, bikes, weights, mats and other various strength training equipment.
Spa Services: Massages of all kinds (even for mommies-to-be!), facials, body scrubs (Vermont maple and brown sugar, anyone?) all offered by trained, accredited therapists.  See all of Okemo's spa options and pricing here.  By appointment only at 802-228-1419.
Pricing:
$14 day pass ($4 for seniors 65+, free for children under 3.)
$10 per fitness class
$3 Racquetball court fee (includes equipment)
Snow Tubing
This is one of the best options for an affordable day of fun.  Each hour on the hill is $12, which includes snow tube rentals.  Children must be over 42″, and all snow-tubers must sign a waiver.  Snowtubing hours are the same as listed above for kids snowmobiling.  Call 802-228-1600 for information on conditions.
The Ice House
Another affordable option for non-skiing winter fun.  Skate and helmet rentals are $5 each, and unlimited skating pass is $5. The ice is kept in great condition for smooth skating, and there is a warming area as well.  The Ice House is open Saturdays, Sundays and holidays from 10 am to 9 pm.  Monday through Friday, skate anytime from 1 pm to 9 pm.   Call 802-228-1406 for more information.