Not a skier or snowboarder? Need a different way to get outdoors and explore other Vermont winter activities?
Luckily, near Golden Stage Inn, there is no shortage of winter activities. Whether you want a relaxing day enjoying scenic beauty, a thrilling adventure, or are a more "indoors-y" type, we have you covered. Check out our Top Ten List for non-skiing wintertime activities in Vermont! Book your room for a winter-y wonderland vacation.

Dog sledding with Great River Outfitters of Windsor, Vermont is a fantastic way to get on the snow. You can go during the day, get a custom tour, or even have a moonlit dogsled ride! Meet all the dogs before you zoom along over the snow through gorgeous Vermont winter scenery. Best of all, you won't have to do any of the work! This is what the husky sled team loves to do, and you'll feel the dogs' and trainer's enthusiasm, too. You may have the opportunity to do a bit of the sled driving yourself! Dog-sledding is new this year to Grafton Ponds Outdoor Center as well.
Snowtubing is a thrilling way to spend an afternoon! Take the kids (or kids at heart!) to Grafton Ponds Outdoor Center, which also offers snowshoeing, XC-skiing, and sometimes ice skating. Magic Mountain and Okemo also have snow-tubing hills. You'll have a hard time wiping the smile off your face. 🙂
"Dashing through the snow in a one-horse open sleigh…o'er the fields we go, laughing all the way!" Take an old-fashioned horse drawn sleigh ride, one of the most classic family-friendly Vermont winter activities. Horse-drawn sleigh rides are offered at several locations around Southern Vermont. You'll want to call in advance to be sure of times, weather conditions and cost. Here are a few places within driving distance from our Inn:
Billings Farm & Museum: (802) 457-2355
Great River Outfitters: 802-674-9933
Kendron Valley Stables: (802) 457-1480 or (802) 457-3015
Taylor Farm: (802) 824-5690
Green Mountain Orchards: (802) 387-5851
Grafton Ponds Outdoor Center (December 20th and 24th-28th only; 11 am-3pm)
Cross-Country Skiing may not seem as thrilling as downhill skiing, but there are tons of benefits. Vermonters love cross-country skiing because you really get into nature – no mechanized ski lifts, no crowds – it's just you and the trail. Cross-country skiing is a fantastic workout if you like to get your heart rate up, or if you miss running and hiking during the snowy season. And, best of all, it's way less expensive than downhill skiing! Check out Viking Nordic Center in Londonderry, Grafton Ponds Outdoor Center, Okemo's cross-country trails, or Wild Wings in Peru. Wild Wings offers yoga, and Viking Nordic Center has a cookie trail…cool!
Ever considered snowmobiling? Rent a sled nearby! The Wood family tried snowmobile rentals through Snowmobile Vermont in 2013 – and loved it! This snowmobiling company is less than a half hour from our bed and breakfast, and is located in the scenic Calvin Coolidge State Forest.
You can go ice skating at Okemo's Ice House for $5. Skates and helmet rentals are an extra $5 each. There is a warming hut decorated with antique ice-harvesting equipment.
Grab a hot drink and cozy up with a blanket by our Inn's fireside. Grab your favorite book or browse our selection in the common room. Choose one of our many games to play, or solve a puzzle on your own. We also offer free Wi-fi connection, if you need to do some holiday shopping or browse the web. Stay satiated with hot cider, endless access to the cookie jar, and hot coffee and tea. Winter afternoons offer homemade soups! Soups, cookies and beverages are all complimentary when you stay with us.
Snowshoe in style…with wine and cheese! Grafton Ponds Outdoor Center offers wine & cheese snowshoe tours for $25 per person. Call ahead for a reservation: 802-843-2400. Difficulty level of the tour is determined by the group. Enjoy wine and Grafton Village Cheese by a crackling fire in the warming hut. Feel like staying closer to home (or, ahem, the Inn)? Borrow our snowshoes for a tromp around Proctor-Piper State Forest, directly adjacent to our backyard! (This option is completely free.)
Got kids? After you've had your fill of our delectable homemade breakfast, bundle up and head out to play in the yard! Build a snowman, snow sculptures or a snow fort…and prepare for the inevitable flinging of snowballs. While you're out there, say hello to our friendly sheep and backyard chickens (which supplied the eggs you ate for breakfast!) Our latest addition is a young lamb…yet to be named.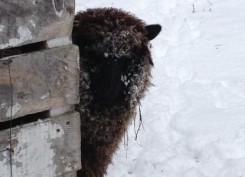 Looking to get out…but not in the snow? Enjoy a unique spa and shopping day. There are plenty of year-round activities in our area of Vermont. Get a spa treatment at the Castle Resort next door. You can borrow our punch card to access their fitness room and pool for just $15. Through us, you can also get $10 off of a pedicure at Salon 2000 and $8 drop-in yoga classes at Sama Yoga, both in Chester. Ask about our other numerous coupons for shopping and dining. Explore locally-owned bookstores, sugar houses, cafes, wine & cheese shops, galleries and craft stores. Finish your day on the town with dinner at one of the fantastic restaurants in South Central VT.