As a bed and breakfast near Ludlow, VT, we're seeing an interesting travel opportunity created by the pandemic. Midweek skiing at Okemo Mountain used to be available only to retirees and those who would use their vacation days to come skiing in Vermont. Now, it's also accessible to a whole new group of professionals who work from home … and the beauty of that, of course, is it that it doesn't need to be "from home" at all — but instead can be from your inn room. We have Wi-Fi, great coffee, and easy access to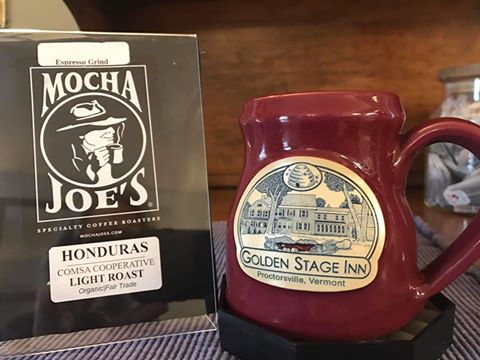 some of Vermont's best skiing; what more could one need during an extended phase of remote working?!
Skiing midweek in Vermont brings so many benefits, especially while COVID concerns are still high. There are no crowds. Not at the mountain, the restaurants, or the B&B. Social distancing is natural and easy for once. The ski conditions are phenomenal. With so few other skiers, you get the benefits of 'first tracks' nearly all day long! And let's not overlook that Golden Stage Inn offers a midweek special – use promo code "midweek" at the time of booking and you can save 25% off weeknight stays of three nights or longer.
For "work from inn" sessions, some guests choose to sit in our sunny breakfast room with a laptop while others choose the privacy of their own rooms for their remote work. Otis's Room is our biggest room and it has two comfortable chairs and a table, all fireside of course, creating the perfect set up for remote work. Add a cup of locally roasted coffee and one of our individual size cookie jars, and we've got your afternoon meeting covered!
If you are one of those people who have been stripped of your office space, it's time to start considering a trip to Vermont. Be sure to check out state's travel restrictions that require a certain quarantine period, and then plan accordingly. We'd love to host you at Golden Stage Inn!