At our Vermont country inn, these Cinnamon Rolls are a favorite! Less than five miles south of Okemo Mountain Resort in Ludlow, VT, our skiers are seeking hearty homemade breakfasts to keep them sustained for a full day of skiing.
This is a perfect recipe for our Vermont Bed and Breakfast — homemade, from scratch, just one part of our great breakfasts that are a signature of our inn.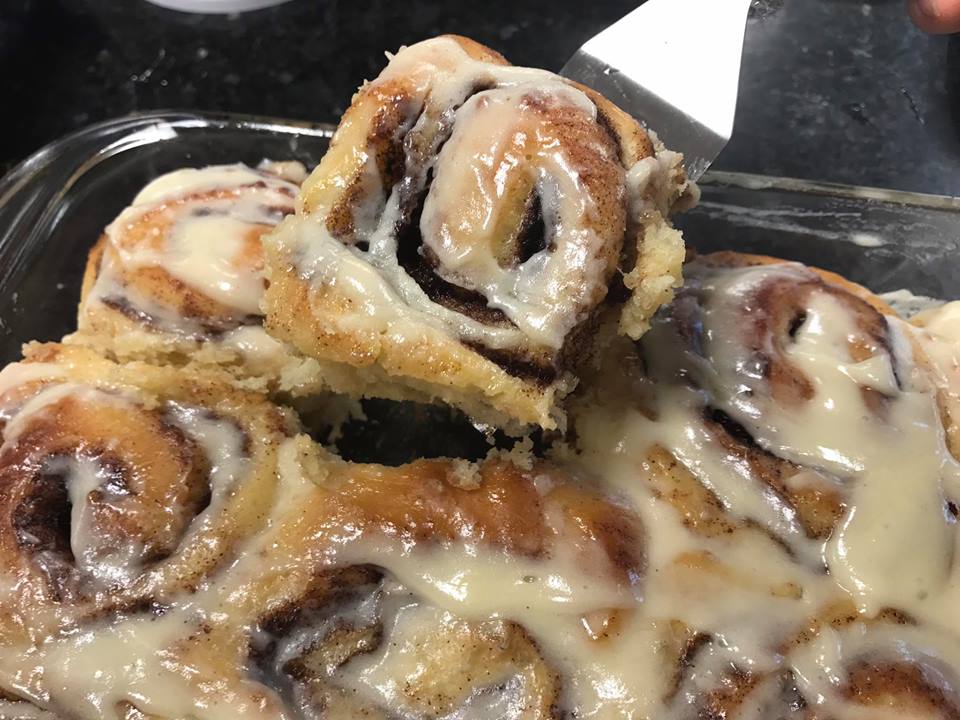 Whether skiing Okemo Mountain Resort or Viking Nordic Trails in Londonderry, or maybe even just doing some relaxing reading by the fire in our puzzle filled living room, all of our guests visiting Vermont in the winter are sure to love these Cinnamon Rolls!
And they're not hard to make. They do take a bit of time as you'll need to wait for the dough to rise, but much of the time is just waiting — giving you plenty of time to hop online and peruse our Golden Stage Inn website, planning your next visit!
Meanwhile, you can enjoy a taste of Golden Stage Inn at home when you give these a try. (Confession: this is not an original recipe, but we can't remember where we originally found it!) Give them a try, send us a picture, and come see us soon!
In a large mixing bowl, combine 2 ¼ c. flour and one package (2¼ tsp.) yeast.
In a saucepan, heat and stir 1c. milk, 1/3c. butter, 1/3c. granulated sugar, and ½ tsp. salt just until warm (120-130 degrees) or til butter almost melts.
Add milk mixture to flour mixture.
In that empty saucepan (off heat, just reusing a dish), lightly beat 3 eggs and add to the flour mixture.
Beat on low speed for 30 seconds, scrape bowl. Beat on high speed for 3 minutes.
Stir in as much of additional 3 cups flour as the dough will take in. (Paddle in mixer on low is fine.)
Use paddle on electric mixer or knead by hand (on a lightly floured surface), adding any remaining flour to make a moderately soft dough that is smooth and elastic (3-5 minutes). Shape into a ball. Place in a greased bowl, turning once. Cover, let rise in a warm place until double in size (about one hour). (We use an off-oven with a closed door. You may choose to preheat the oven to 200, but turn off before adding bowl of dough.)
Punch down dough. Turn out onto a lightly floured surface, divide in half. Cover, let rest ten minutes or so.
Lightly grease two 9 x 1½" round baking pans.
Roll each half of the dough into a 12 x 8 rectangle. Brush with 3 Tbsp. melted butter. Sprinkle with (2/3c. sugar plus 2 tsp. cinnamon).
Starting from LONG SIDE, roll up each rectangle, seal seams, cut into 12 1" slices. Place slices, cut sides down into prepared pans. Cover loosely with plastic wrap, chill and let rise for 2 – 24 hours. (Want fewer but much larger rolls? Start from the short side.)
IF YOU'RE NOT BAKING IMMEDIATELY: now is the time to put them in the fridge overnight.
Uncover, let stand at room temperature for 30 minutes. (If they've been refrigerated, let sit at room temperature or a warm off-oven for at least 30 minutes, probably 45. They should rise.)
Meanwhile, preheat oven 375.
Bake for 20 – 25 minutes or until light brown. (If rolls are overbrowning, use foil for last 5-10 minutes of baking.
While baking: prepare glaze by stirring together 1 1/4c. confectioner's sugar and ½ tsp vanilla, and about 2 Tbsp half and half, aiming for a thick but easily spreadable consistency.
Cool for rolls for just a minute or so, then invert onto wire rack. Cool slightly more. Invert again onto serving platter. Drizzle with glaze. Makes 24 rolls.
Enjoy!