When it comes to woolly craft classes and workshops,
I've always been much more of a spectator than a participant – though I admit to harboring a steady curiosity (or maybe envy is a better word).  At county fairs, I always seek out the craft barn and – okay, I'll admit it – I get excited when I see that the spinners are doing their thing.  It's like watching a fairy tale come to life as fluffy piles of wool are changed into spools of rough-hewn yarn.  Well, maybe it's not quite as magical as spinning straw into gold, but it still impresses me every time!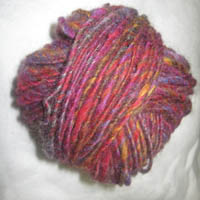 So it was a real treat for me to attend last year's craft classes at Wild and Woolly Weekend, a fiber arts fair hosted by Six Loose Ladies and Fiber Arts in Vermont.  ­­­Now, I'm looking forward to this year's installment, on April 27 and 28 at the Pointe Hotel.  This fiber arts weekend is 50% fair, 50% craft classes, and 50% social networking.   No, that's not careless math; it's just that this weekend has so much packed into two days that it overflows!  Veteran and virgin crafters alike really ought to swing by to check out the vendors and craft classes being offered by this energetic group of artists and do-it-yourself-ers.
Those who are new to this sort of event may have the wrong impression.  A weekend about yarn?!  Probably a bunch of old ladies sitting around with knitting needles, balls of yarn, and maybe even a cat or two by their feet.  You couldn't be more wrong. When you look up the meaning of the phrase Wild and Woolly, you'll find synonyms such as boisterous and unruly.  And, based on the energy that is present from the moment you walk in the door, boisterous and unruly seem like achievable descriptors!  (I mean, with a retail store name of Six Loose Ladies, you know that rowdy humor will be a part of the fun!)
The Wild and Woolly Weekend has craft classes available for the very beginner, like me, but they also have classes appropriate for those who are already pretty established in the crafting tradition.  In some classes, you'll go home with a finished product; in others you'll go home with enough knowledge and enthusiasm that you can tackle a new project on your own.  You can choose between three-hour classes or 50-minute 'mini-classes.'  The topics range from spinning on a wheel or on a drop spindle; choosing and working with colors; making mug rugs (coasters), chair pads, animal pins, and mittens with needle felting; designing decorative boxes from paper collage;  and creating sparkly bracelets using beaded knitting.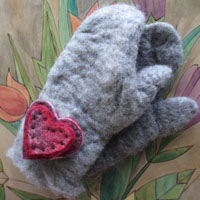 Whether you're still a latent crafter or an admitted junkie of all things wool, this event is well worth checking out.  Entrance is not only free, but there are door prizes galore.   The costs of craft classes are $5 or $10 for the mini-classes and between $30 and $45 for the 3-hour classes.  Class listings are available at the Six Loose Ladies website.
-Julie-Lynn, Innkeeper, Golden Stage Inn