Our bed and breakfast, located in Proctorsville VT, is very close to several great art & craft facilities.  One of these is the Vault Gallery in Springfield, VT.  It is about 20 minutes' drive away from Golden Stage Inn, located in the downtown of an old industrial town located right on the Black River.  The VAULT Gallery showcases uniquely creative arts and handmade crafts from around Vermont.  It is accessible, affordable, modern and gorgeous.  The summer exhibition's focus is flowers.
The VAULT gallery also offers art classes for wannabe artists and seasoned crafters alike.  There are even camps for your kids – if you'd like to get some alone time during your vacation!  Check out the offerings for 2014 summer at the Vault:
Art Workshops for Adults
Saturday, July 26 (rain date Sunday, July 27)

9:30 a.m. to 4 p.m.

Plein Air Workshop in Watercolor Instructor: Rob O'Brien AWS, NWS
This class will meet at the gallery and then set off for a day of outdoor painting. The workshop will begin with a demonstration by the instructor followed by student painting. A critique and discussion will take place at the end of class.

Workshop fee $65 Members/$70 Non-members

Materials list available upon registration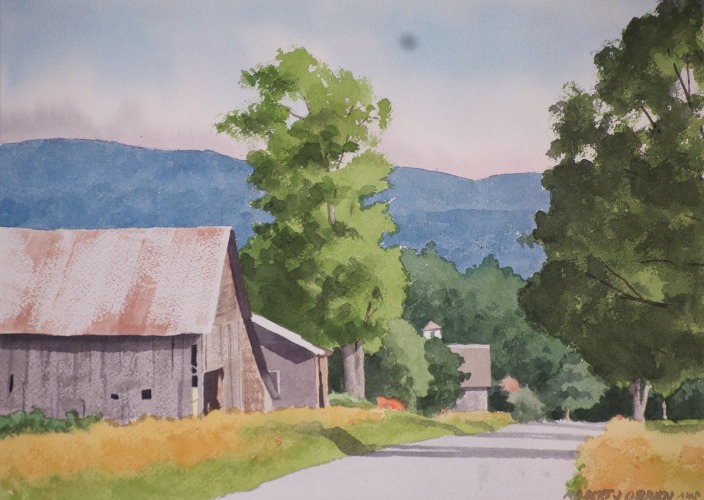 Saturday, August 23

9:30 a.m. to 4 p.m.

Sun and Shade – Late Summer Landscape in Pastel

Instructor: Robert Carsten, PSA-M, IAPS-MC

Explore the Dynamics of painting the warm, sunlit landscape, the coolness of a special shady spot or how to include both in one composition. How you convey that feel of late summer in your work and that lovely golden light that we experience as the sun moves lower on the horizon as we start shifting toward autumn. Working from your sketches or photos, we will explore concepts of color design, and techniques. Various approaches will be presented and demonstrated. Critique, at easel assistance, and lots of painting time will make this an educational and enjoyable painting experience. All levels welcome from beginner through advanced.

Workshop fee $70 members/$75 Non-members

Materials list available upon registation
Art Camps for Kids
VACATION ART CAMP

Held at Parks and Rec on 139 Main Street

9 a.m. to 11:30 a.m.

Experiment with Papermaking

Taught by Diane Kemble and Melissa Post

Create your own handmade papers! Start with paper scraps and water. Churn it up in a blender. Add dried flowers, colored threads, and other surprises. Press through a screen, dry and iron. Then use your paper to make cards, books, night lights, collages, and other creations.

Age 8 and up Art Camp Fee $70. Class size limited. Pre-registration required.
You're Invited!
Gallery at the VAULT invites you to

Celebrate the Season with a Summer Party 

Saturday, July 26 from 2 to 5 p.m.

at the Inn at Weathersfield

An Afternoon Collage of Food, Celestial Drinks, and Outdoor Pursuits!

Taste unique craft cocktails and imagine celestial navigation with Max Overstrom-Coleman of Vermont Spirits.

Enjoy delicious food made from local ingredients.

Ramble through the gardens and grounds of Inn at Weathersfield.

Explore photography with Richard Cofrancesco. (Bring your own camera.)

Learn the art of Fly Tying with Dennis Fontaine.

Try your hand at flower arranging.

Play Croquet and Bocce Ball or Relax on the deck.

Reservations are necessary.

Stop in at VAULT, or call 802-885-7111.

Tickets are $40 each, Checks payable to Gallery at the VAULT.