The Downtown Grocery is less than 10 minutes from the Golden Stage Inn, and is located in the heart of Ludlow, Vermont.
We'd been hearing rave reviews from guests for some time, and decided it was time that Golden Stage Inn gave The Downtown Grocery a review of our own!  (We are far from food critics….but we are definitely food lovers all around.  Besides – what better excuse to go out do dinner than "It's for work"?!)  Julie and Mike had dined there before, but I had only had a drink at the bar once last winter.  I'd really wanted something to eat, but the intimate restaurant was totally packed.  Downtown Grocery's tables are usually completely booked, sometimes several weeks in advance during the busy ski season!  Naturally, I was dying to get a bite…
So this past week, I finally enjoyed a meal at the Downtown Grocery that defied my expectations.  My great-aunt and great-uncle were visiting, so my family wanted to treat them to a meal that would be memorable and eventful.  We sure got what we were asking for!
The hostess was enthusiastic, and our table was gorgeously placed at the intersection of two sunny windows.  Though the Downtown Grocery is a fine dining establishment, the atmosphere stays true to the name and is welcomingly laid back.  The restaurant consists of just two small rooms with plentiful sunlight streaming through the windows.  The menus strive to incorporate fresh, local ingredients as the season provides.  Each room has a full blackboard chalked up with seasonal specials – about five unique appetizers and entrees.  It is wonderful that there are so many specials because each dining experience will be unique.  However, I found it difficult to read the chalk board.  Although it is the size of a classroom blackboard, there are so many specials that the writing is very small, and not very clear in the first place.  Everyone in my family had to take turns standing awkwardly in the center of the small room to read the specials, which disturbed not only the flow of our dinner, but probably the peace of those around us as well.
Regardless, it is admirable how vast the array of fresh, local ingredients in Downtown Grocery's menu can be.
Chef Rogan Lechthaler has quite the resume under his belt.  I respect that he came back to his Vermont origins to serve real food to real people (meaning, not celebrities and the grossly rich).  The Downtown Grocery is dining at its best, yet is connected to both the people, the land, and the original homemade processes that make fresh ingredients into good food.
From the drink menu, I had to order the Bees Knees cocktail, of course.  This drink includes orange and lemon juice with gin, plus a drizzle of hibiscus-infused honey.  (So bummed I didn't take a picture! Guess I'll just have to go back.)  It was quite refreshing, and not at all too sweet.  The appetizer was a tougher choice.  All the specials looked so inviting, but I chose to go with a classic – Maine mussels with shallot-dusted frites.  I think my mother made the best choice, however, with Coger Garden's mesclun salad.  It came on a cutting board, with honey-drizzled Bijou cheese, herbed crostini and raspberries.  The greens themselves were artfully topped with an edible flower – Nasturtium.
As our meals arrived, I knew I'd made the right choice.  See below for the main event: pancetta-wrapped monkfish atop celeriac and chanterelle mushrooms!  My father and uncle ordered rabbit-wurst with sauerkraut.  I know it evoked their memories of growing up on farms eating suppers inspired by their German and Dutch heritage.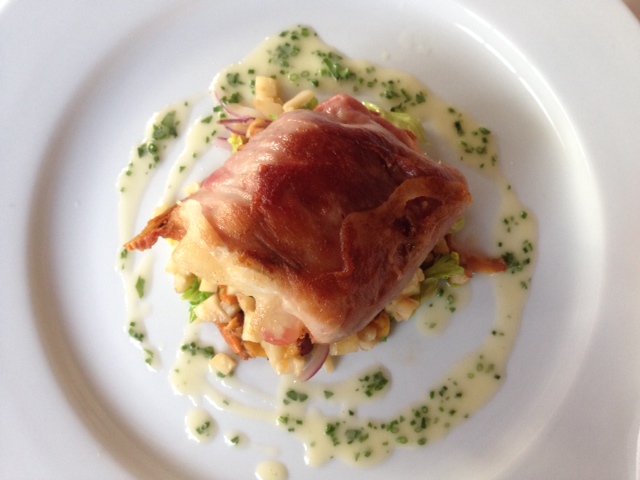 Here are pictures of two Downtown Grocery classics: ribeye with 'lincoln log' potatoes and a pimento burger with frites and house-made pickles & ketchup.  Try not to drool…too much, anyway.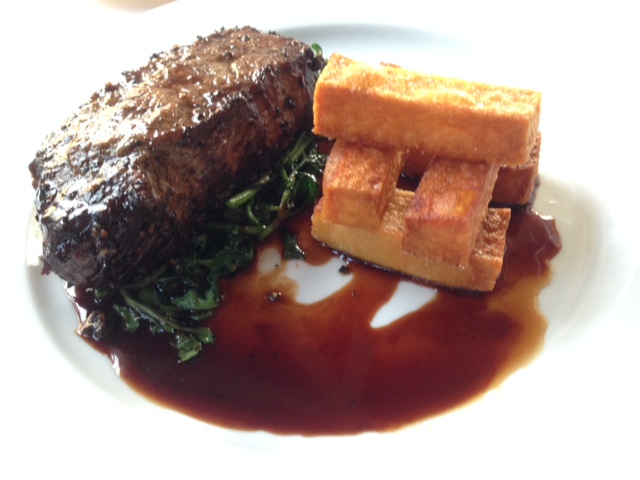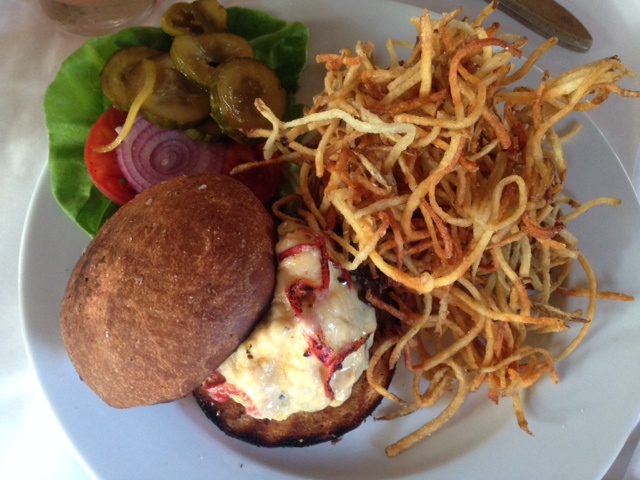 We'd saved room for dessert and tried a smattering of Downtown Grocery's dessert offerings between the table.  I had vanilla creme brulée that was to die for…and definitely had a hard time sharing!  (Check out a picture of the creme brulée and other restaurant images here.)  Other desserts included chocolate souffle with espresso sauce and blueberry-peach cobbler.  Though delicious, these were both a little too heavy for me to enjoy at the end of such an elaborate meal.  I'd love to go back to try the cheese board.  For the honeybee enthusiasts out there, it comes with local honeycomb!  Additionally, the ice cream and sorbet flavors are ridiculously creative, and I believe almost all are house-made.  Those flavors that stood out to me were blueberry goat cheese, strawberry balsamic, watermelon mint and pineapple basil…
…you can bet I'll be back!