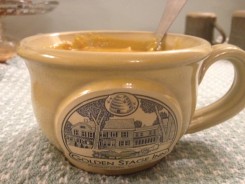 Every winter, after Christmas passes, Golden Stage Inn welcomes guests with steaming afternoon soup to warm chilly bones from the cold.  The soup season is coming to a close, so lets send you off with a new recipe from this year.  This Harvest Pumpkin Soup recipe was created by Golden Stage Inn's Marketing Assistant.  It is a perfect winter soup that brings out the nostalgic flavors of fall: pumpkin, apple and onion.  The spices in the Garam Masala mix lend to a particularly warming effect, enhanced by garlic, ginger and a touch of curry powder for heat.  You can buy Garam Masala spice mix at most grocery stores, or you can make your own with freshly ground spices.  The amount of curry powder used is perfect for those who aren't "spicy eaters", so if you like your soup spicy-hot, add more!  Another key ingredient is Wood's boiled cider — an apple syrup that adds sweetness and acidity to the soup.  If you do not have boiled cider available, you can substitute one tablespoon maple syrup, one tablespoon apple cider, and a teaspoon of apple cider vinegar.  Wood's cider mill is not far from Golden Stage Inn and makes a great day trip during the cider-pressing and maple-sugaring seasons.  You can also find the product on King Arthur Flour's website.
Harvest Pumpkin Soup with Garam Masala
Ingredients:
2 1/4 cups stock (chicken or vegetable)
1/2 sugar pumpkin (if you would rather used canned pumpkin, I believe this would equal 2 cans.)
olive oil
1 onion
2 small apples (or one large apple)
2 cloves garlic
fresh ginger (use a thumb-sized amount)
2 teaspoons Garam Masala
1/2 teaspoon curry powder
3 tablespoons boiled cider
1 teaspoon salt
1. Prepare pumpkin by cutting it in half and seeding it.  Place the two halves on a baking tray with a bit of water, open sides down.  Bake at 350 degrees Fahrenheit for 40 minutes, until soft.
2.  Chop onions and apples.  Finely dice ginger and garlic.
3. Warm stock in a medium-sized pot with 2 tablespoons of Woods' boiled cider.  Scoop out a half of the cooked pumpkin, and add to the stock. Sprinkle 1/2 teaspoon of garam masala over the mixture and stir to combine.  Cook on medium high heat until simmering, then turn heat to low and simmer until the other ingredients are ready.
4.  Warm olive oil in a pan over medium high heat.  Add onions and cook until translucent, then add apples and continue to cook.  When both apples and onions are soft, turn heat to low and add ginger, garlic, curry powder and 1/2 teaspoon garam masala.
5.  Add mixed sauteed ingredients to the pumpkin stock and stir.  Add salt.  Simmer on medium low for another 5 minutes.
6.  To puree the soup, I used an immersion blender.  If you do not have an immersion blender, you can use a stand-up blender or food processor.  Taste your soup and add extra curry powder, salt or garam masala if desired.
7.  Serve with a drizzle of boiled cider accenting each bowl.