Breakfast is a big deal at our Vermont Bed and Breakfast near Ludlow VT. Whether we're serving
those who ski Okemo or those who hike Vermont's trails, we always offer a full two-course breakfast from scratch, sourced with so many Vermont ingredients. We typically include mascarpone cheese from Vermont Creamery, greek yogurt from Cabot, honey from our own bees, locally sourced breakfast meat, and always eggs from our backyard chickens. Can't get more local than that!
We love the vibrant orange yolks in our backyard eggs, and this "Egg in a Maple Basket" recipe showcases these healthy eggs perfectly. The presentation of this breakfast is somewhere between cute and elegant, and the especially fun part is that it is deceptively easy. The Maple Basket is simply a piece of basic loaf of bread, rolled with a rolling pin and then coated with equal parts butter (we use Cabot of course!) and pure Vermont maple syrup. You tuck the bread into a muffin tin, crack the egg into the cup, and voila! Your breakfast is prepared!
This is the perfect prepare-ahead recipe for breakfast or brunch with guests. Do all the steps in advance and then just pop them in the oven 17 minutes before eating. Of course, as we remind you with all of our recipes, everything we make here tastes better when prepared by someone else, served by someone else, and cleaned up by someone else! So, while we'll include the full recipe below for your at-home convenience, be sure to book a room at our Vermont Bed and Breakfast to get the real taste of Vermont hospitality!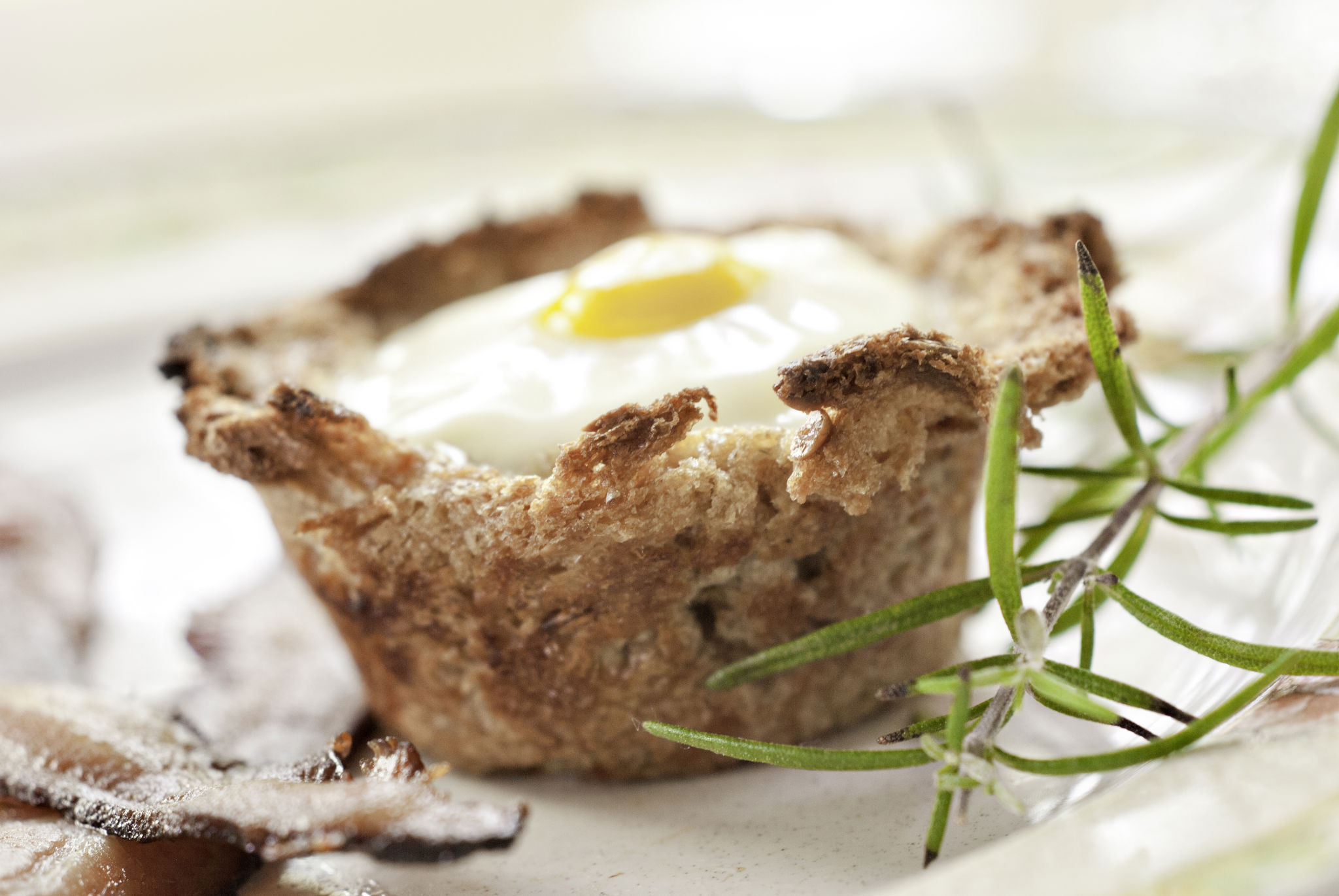 For six servings, you'll need:
12 pieces of bread
12 eggs
¼ c. butter, melted
¼ c. maple syrup
Herbs and/or salt
Optional: shredded cheese for garnish
Grease 12 muffin cups.
Combine butter and syrup. Set aside.
Remove and discard crusts from bread. (Or don't. Your choice!)
Gently roll each piece of bread flat with a rolling pin.
Brush the maple butter onto both sides of each piece of bread.
Tuck and shape a piece of bread into each muffin cup, pressing bread against sides, forming it to the shape of the muffin cup.
Crack an egg into each cup.
Sprinkle with herbs and/or sea salt.
Bake at 400 for 14-18 minutes until set.
(Less time = runnier yolk. More time = solid yolk.)
Note: the eggs will continue to set as they rest; be careful not to overcook.
Sprinkle some parmesan or grated cheddar on eggs for garnish.
Best if served immediately.