In May and June of 2014, we renovated two of our rooms! We're pleased to announce that Otis's Room and Cornelia's Room have received a royal upgrade. Browse our recent photos to see what's new and improved…
Otis's Room
Named for Otis Skinner, a descendant of Reverend Warren Skinner, whose family lived in this house in the 19th century. Otis Skinner was born in 1858, and had a successful career as a Broadway actor. According to the Encyclopedia Brittanica, Skinner played hundreds of roles on stages around the world until his death in 1942.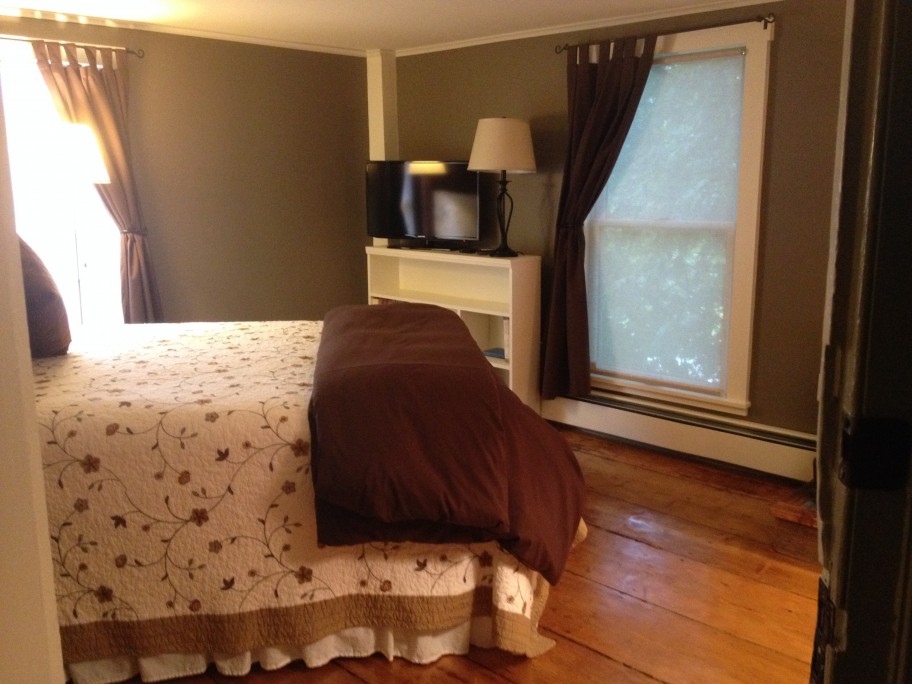 Otis's Room now boasts a flat-screen TV, which you can watch from the comfort of the luxury mattress on the Queen-sized bed.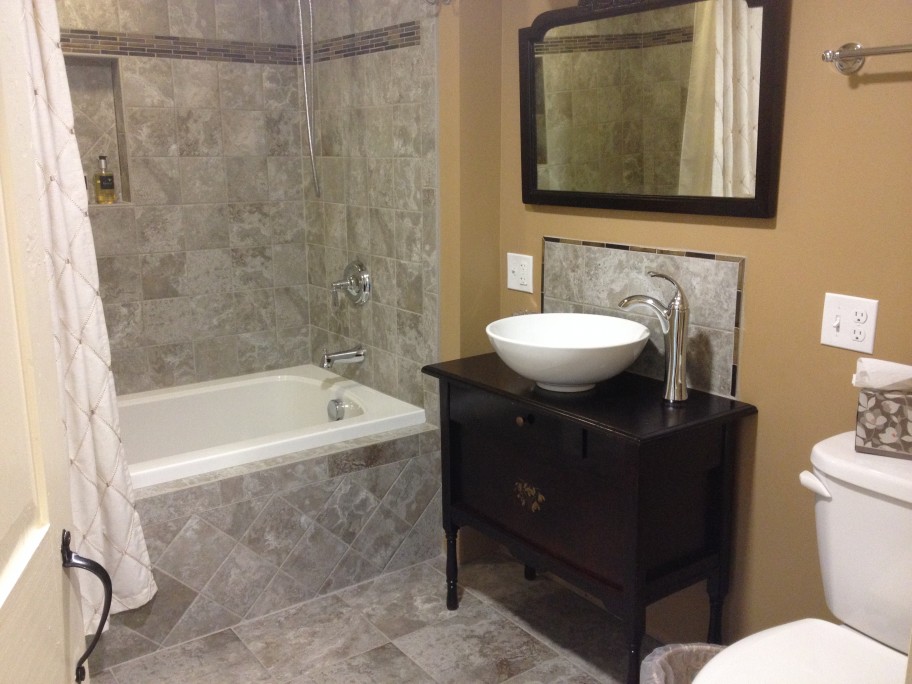 The bathroom of Otis's Room is completely new. Step up two small stairs to find gorgeous tile work, an elegant sink perched atop an antique vanity, and (best of all!) a brand new jetted tub. Time to relax! Enjoy a wide variety of amenities in every room, and check our basket at the top of the stairs if you forgot any essential toiletries.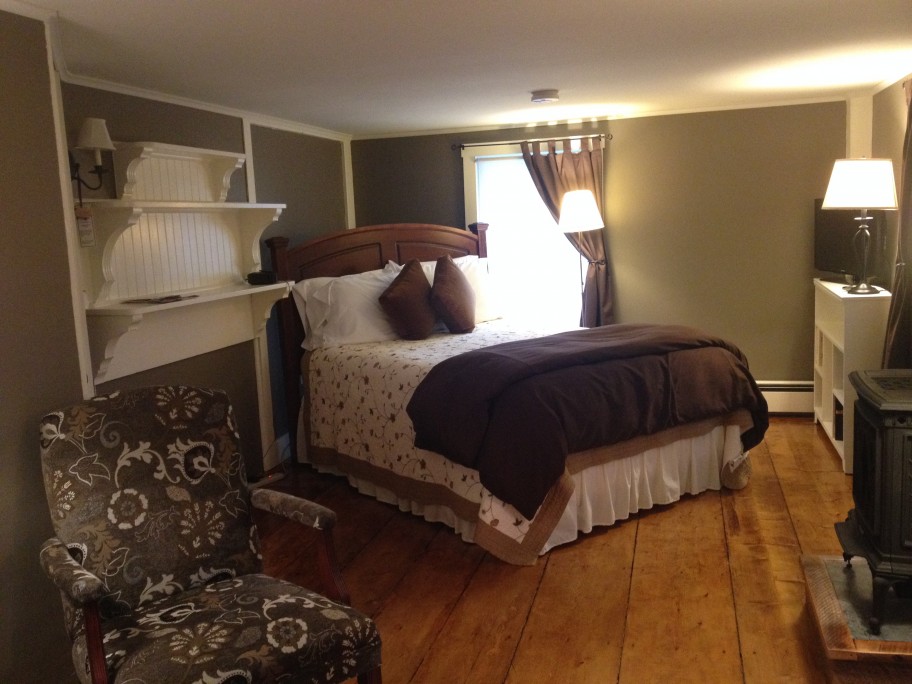 In the photographs above and below, you'll notice a brand new gas-fired stove, to keep you toasty warm during the ski season. Enjoy the fire from bed or in the sitting area, which offers a spacious and well-lit area to read or socialize.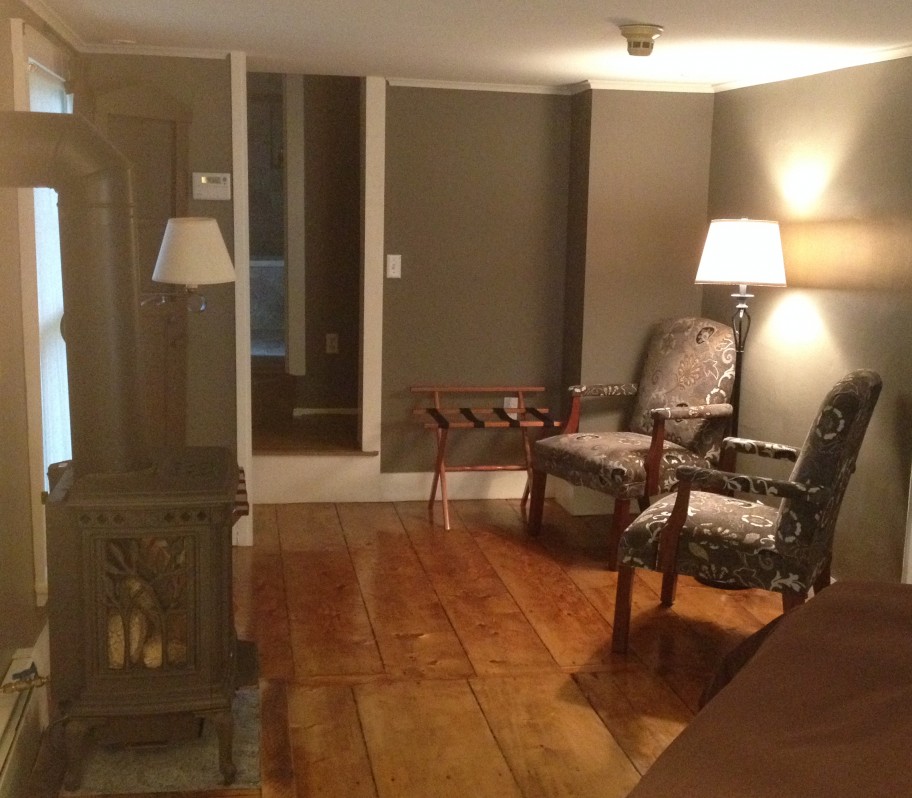 Cornelia's Room
Cornelia Otis Skinner was the daughter of…you guessed it! Otis Skinner. The room named for her is right across the hall from Otis's Room. Cornelia was also a famous actress in both plays and films, as well as a prolific author. You can find copies of the books she wrote in our living room.
A gas-fired stove brings cheer and warmth to Cornelia's Room on cold winter days. This new addition makes Cornelia's Room a cozy option for the ski season. To the right of the fireplace, you'll see another new addition: a flat screen TV.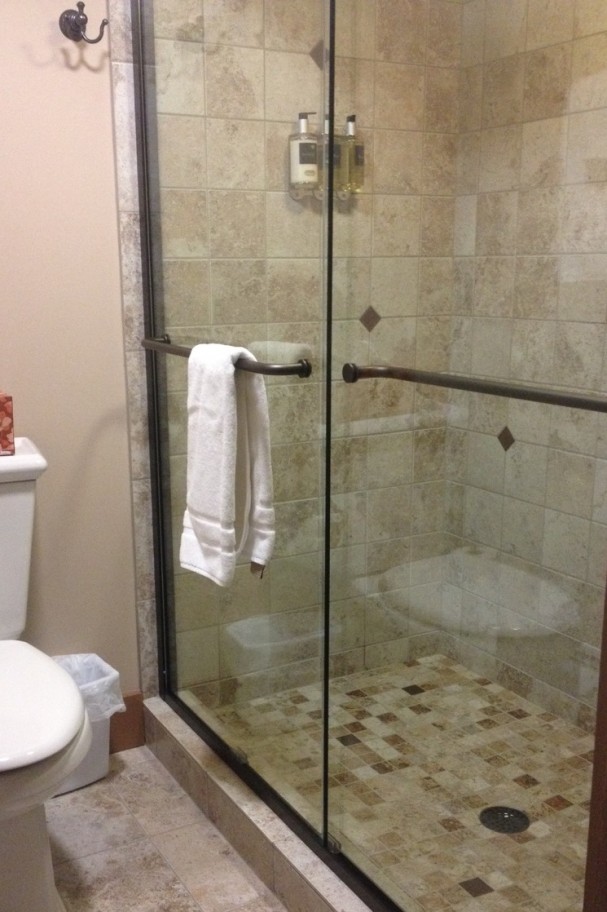 The bathroom has been completely redone to accommodate a spacious shower with luxurious tile. The sink is located on an antique vanity just outside the bathroom door. (See below.) All of our bathrooms offer several amenities, including BeeKind hair and skin care products.
Give us a call at (802) 226-7744 if you'd like to book one of our newly renovated rooms – we can promise that you'll have a pampered stay!