Innkeeping at a Vermont Bed and Breakfast in the Okemo Valley region, I find it useful to be able to recommend things to do in the ski town of Ludlow, VT and its surrounding area. Of course there's skiing and hiking, that's easy, but knowing what there is to do after the sun goes down is a whole 'nother kind of useful. Our inn guests really want to experience some local color of Vermont and I'm so happy to have visited the most recent addition to Okemo Valley's repertoire.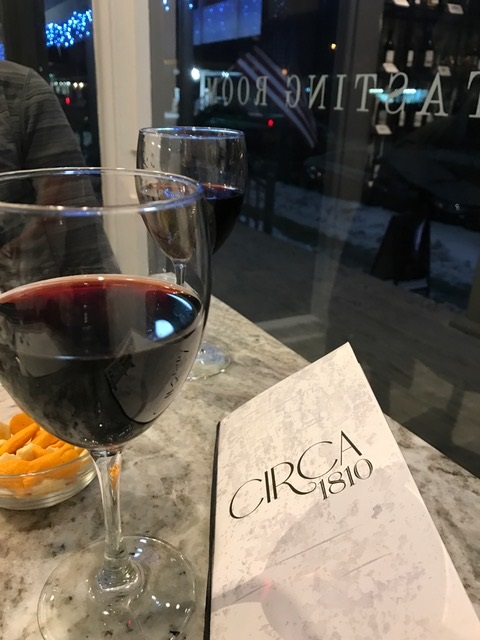 Circa 1810 is the tasting room for the local winery of Brookfarm Vineyard (just 5 easy miles up the road from us). In short, what a great spot that you really should check out! But if you're curious for a little more detail, here goes…
For an entire summer I meant to get to the then-new winery in Proctorsville — Brookfarm Vineyard on Twenty Mile Stream Road. By the time foliage season ended however, I accepted my defeat. Although I had directed several guests there (and each came back raving about their experience on the wondrous property), my five minute journey up the road would have to wait until next summer.
But then, I was given a sort of a second chance when the proprietor announced the opening of their tasting room in the heart of Ludlow. This spot is called Circa 1810, named for the year of one of the buildings on the Proctorsville property. What a treat of an evening!
You've got to know – I don't "do" pretentious. I would stick out like a sore thumb, and frankly, I'd feel just as sore if I had to spend an evening in a hoity-toity place pretending I know something about wine (which I don't). That said, I do enjoy an evening out with a good friend or two, sharing a drink or two, in a peaceful space with fresh, sophisticated ambience. (That word "sophisticated" edges a bit close to pretentious, but I can't for the life of me think of a better word!)
Well, Circa 1810 hits the mark for all that I was looking for. It feels kind of elegant inside, without being fancy or out of place in the ski town of Ludlow, Vermont. It was a weeknight and we were the only customers. We were greeted by the friendly staff, and invited to sit at the wine bar or table. We opted for the table by the plate glass window overlooking the wintry streetscape.
The choices are relatively simple and un-overwhelming. We could order wine by the glass or try one of a few variations of wine tasting flights. My friend and I both chose the flight of red wines, which offered a hearty sample of two Vermont wines and two wines from a broader regions (New York I think?). It was fun to try the wine while reading about each wine in the tasting menus. Sometimes we could taste exactly the flavors they listed (one tasted distinctly of cherry for example) while other times I wondered if I could pass even the most elementary of taste tests. Also in the tasting guide was some education about how to learn about a wine by its looks (who knew that wine has tears?!).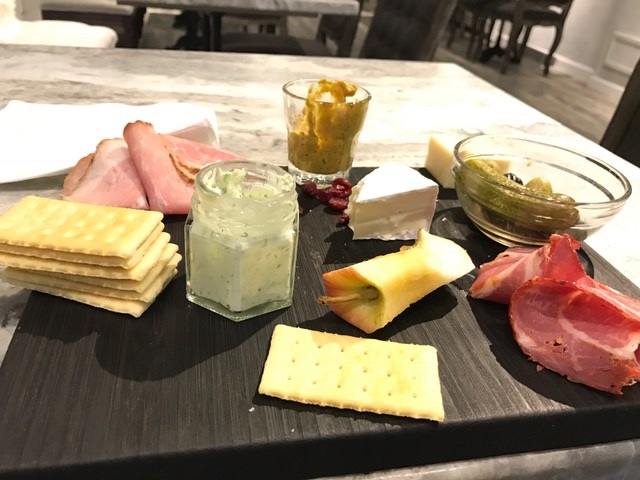 I was hungry, and I avoid drinking wine on an empty stomach, so we ordered the cheese and cracker plate too. They call it a charcuterie plate, but I just can't get comfortable saying a word like that without affecting playful snobbery. But I suppose they call it a charcuterie plate because it sounds better than "a cheese, cracker, smoked meats, fruit, olives and pickles" plate. It was quite pretty and surprisingly bountiful for something I thought would be so minimal. Unfortunately for this post, I was hungry enough and enjoying myself enough that I forgot to take a picture before we ate most of it, but here's my picture of what was left by the time I remembered! Having just stopped in to Circa 1810 for a pre-dinner glass of wine, this charcuterie tray proved to be the perfect appetizer for our evening. And there are soft whispers that in addition to the cheese and cracker plate, Circa 1810 will soon be offering a chocolate plate too. This means I can go there for dessert next time if I want!
Circa 1810 is still finding the best schedule to accommodate its customers. Currently their hours include Wednesday through Sunday nights Be sure to check their website for the most updated hours or just give them a call.
Stay tuned: Golden Stage Inn may be partnering with Circa 1810 and Table19 (a great restaurant down just down the road) to pull together a fantastic "girls night out" lodging package later this summer. Always, don't hesitate to reach out to us with any questions or to make a reservation.