Looking to ski Okemo Mountain in Ludlow, Vermont? Make the decision easier — better! — by choosing Golden Stage Inn as your place to stay when visiting Vermont in winter. Truly a Foodie's Favorite!
In addition to our winter afternoon treats of hot apple cider and homemade soup, guests also enjoy our signature Bottomless Cookie Jar. It's always being filled with freshly baked "from scratch" cookies — maybe flourless peanut butter cookies, or traditional Toll House chocolate chip cookies, or maybe one of our innkeeper's favorites, Molasses Crinkles.
We're always happy to share our recipes with you, and this time it's the Molasses Crinkles that have earned the spotlight.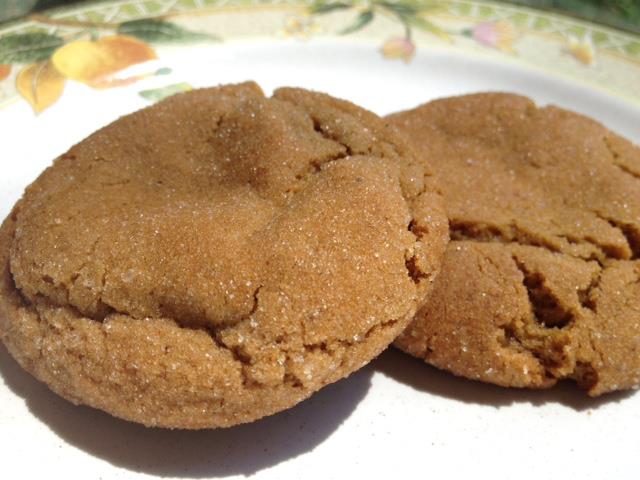 In a large mixing bowl, mix together:
3/4 c. shortening
1 c. packed brown sugar
1 egg
1/4 c. molasses
In a separate bowl, whisk together the following ingredients, then mix into wet ingredients:
2 1/4 flour
2 tsp baking soda
1 tsp cinnamon
1 tsp ginger
1/2 tsp cloves
1/4 tsp salt
When thoroughly mixed, place dough in refrigerator for a couple of hours or overnight.
Preheat oven to 375. Make small dough balls about the size of a large walnut, and roll in your hands so they are round. Dip top in sugar and place on a parchment lined cookie sheet, a few inches apart.
Bake at 375 for 10-12 minutes, until the cookie looks set, but not firm throughout.
These cookies are easy and delicious, but don't forget — cookies are always easier and more delicious when you let us bake them for you!
Next time you come to Vermont, stay with us at Golden Stage Inn. We're just minutes from great skiing, gorgeous hiking, and complete relaxation. We look forward to hosting you!