Killington is already open for business and Okemo, Bromley, Magic and Stratton are busy making snow.  Skiers and snowboarders are dreaming of the snowfall soon to come.  If you are hoping to plan your ski vacation in Vermont, we have a few tips that will help make life easy.
How to Plan a Ski Trip in Vermont
1. If you have kids or are traveling with a large party, plan early.
There is a bit more flexibility for last-minute bookings for parties of two, but when traveling with a family or a party of friends, book in advance.  Golden Stage Inn and many other small bed and breakfasts offer suites.  Our double-roomed suites offer multiple bed size options, privacy between the two rooms, and a better deal than booking multiple separated rooms.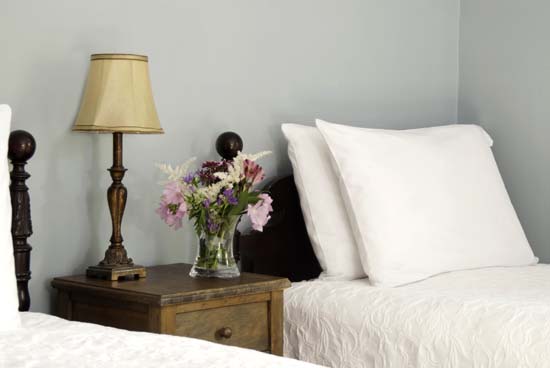 The Cavendish suite has one room with a Queen-sized bed, and a second that can have two twin beds, or one king-sized bed.  
The Beehive Suite has a Queen-sized bed in one room.  The second contains two twin beds and a pull-out couch.
2. Choose accommodations that are close to the slopes…
…but maybe not too close.  While some people enjoy staying slope-side, many find that the quick drive between the mountain and their choice of accommodations makes for a cozy home base.  If your preferred ski mountain is Okemo, Golden Stage Inn is just 10 minutes down the road.  This is a perfect distance because we are also close to Killington, Magic and Bromley, giving you multiple options if you'd like to ski the many mountains Vermont has to offer.
3. Find an Inn or B&B that has many dining options nearby.
Ideally, you'd like those dining options to be close to the Inn.  Better yet if there are restaurants between the ski slopes and your lodging, making for a convenient apres-ski and less time on the road.  Between Okemo and Golden Stage, you'll come across many dining options. Restaurants in Ludlow are diverse in their offerings of food. Some of our favorites include Stemwinder, The Downtown Grocery, Sam's Steakhouse, and Mr. Darcy's.  If you ski Bromley, check out Johnny Seesaw's or the Mill Tavern on your way back.  A diversity of dining options is nice as well, so that you might sample the wide range of delicious food Southern Vermont has to offer.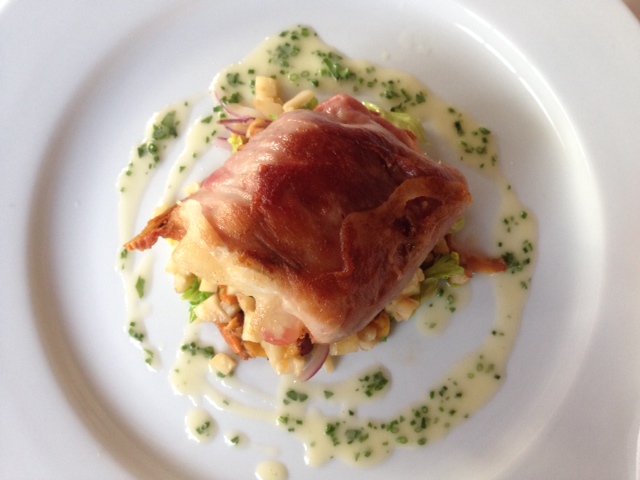 A delicious daily special at The Downtown Grocery, a fine farm-to-table dining establishment located midway between Okemo Mountain and Golden Stage Inn.
4. Choose accommodations that offer fireplaces and warm treats.
There's like a crackling fire to warm you up on a snowy day!  Golden Stage Inn's sitting room has a fireplace front and center.  You'll also have unlimited access to hot tea, coffee, and cider…as well as the bottomless cookie jar, whose contents are often freshly baked!  Curl up with your hot beverage on a comfy couch by the fire and enjoy your book or puzzle.  The back sitting room and several of our guest rooms offer gas fireplaces as well: Otis' Room, Cornelia's Room, and the Cavendish Suite.  Another great reason to book early…you can snag the fireplace rooms!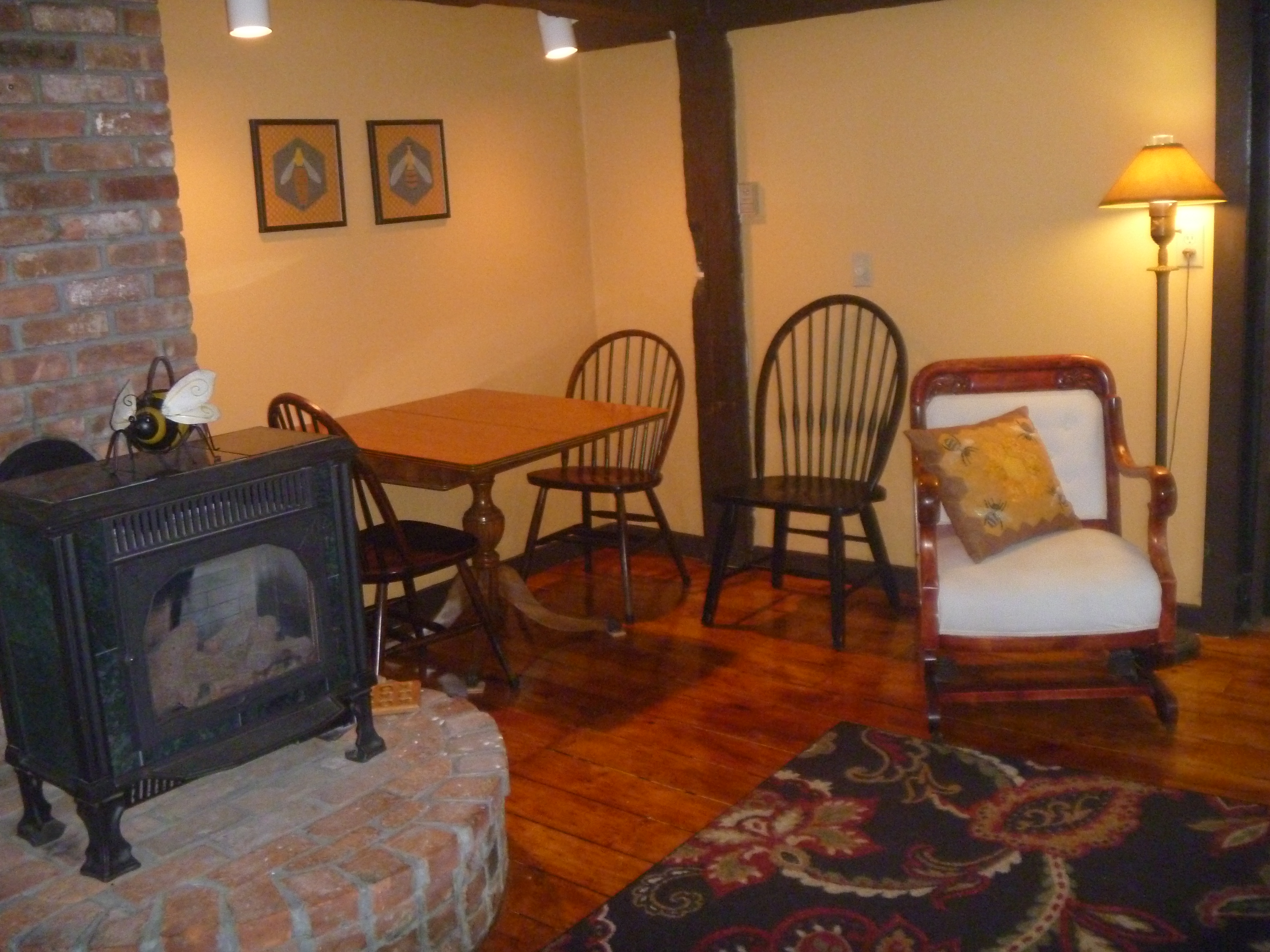 5.  Purchase ski & stay packages to get discounted lift tickets.  See if you can swing a midweek getaway to save big time!
When considering how to plan a ski trip in Vermont, money is always a factor.  You'll save big on your ski trip if you combine your tickets and lodging.  Skiing midweek gets you even greater discounts on lodging and ski tickets.  At Golden Stage Inn, we offer ski & stay packages that will let you save money on lift tickets at Okemo Mountain.  If you're not booking a ski & stay package, you can still order lift tickets through Golden Stage Inn at lower prices than Okemo's retail value!
6.  If you have non-skiiers, choose a location that offers activities and winter adventures for them as well.
Occasionally, we'll host parties where one or two people don't ski or snowboard.  Luckily, our bed & breakfast is right in the middle of several quaint Vermont towns that have so much to offer non-skiiers.  The innkeepers often recommend that guests visit the Vermont Country Store in Weston or take a sleigh ride at Billings Farm in Woodstock.  Visitors also love to shop for antiques in Chester, taste cheese or maple syrup at nearby local producers, and tour art galleries.  For non-skiiers who still want to get outdoors, borrow snowshoes to trek around the woods of Proctor-Piper State Forest in Golden Stage Inn's own backyard, or go skating at Okemo's skating rink.  There is even a place to go dog-sledding in Windsor, VT: Great River Outfitters!  Non-skiiers even love just hanging out at the inn – which offers a spacious common room not found in your typical hotel or condo.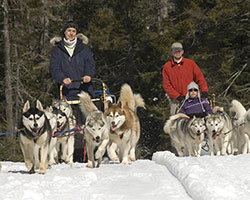 7.  Finally, plan ahead for lunch.
Buying food on the mountain can be EXPENSIVE, and ski mountains might not offer the kind of lunch you're interested in.  Stop at a grocery store on your drive up to Vermont and stock up on lunch supplies.  Ask the Inn or B&B you're staying at if you'll have access to a fridge and kitchen accessories for creating and storing your lunch.  (Golden Stage Inn offers both).  And remember that at Golden Stage Inn there will be warm homemade soup awaiting you back at the Inn (starting after Christmas!)
We hope these insider tips help guide you in how to plan a ski trip in Vermont.  More questions?  Feel free to call the Innkeepers at (802) 226-7744.