Vermont's only honey fair promises to be an outstanding event this year!
Golden Stage Inn, in partnership with the Okemo Valley Regional Chamber of Commerce, is hosting the Vermont Golden Honey Festival on September 13th, 2014.  The festival takes place on the green lawn of our bed and breakfast, at 399 Depot Street in Proctorsville, Vermont.  This event is a ton of fun, and we can guarantee that if you aren't already a fan of the honeybee, you'll be one after attending the VT Honey Festival!  Did you know the honeybee is the Vermont state insect, or that VT has its own Beekeeper's Association?  Learn more at the honey festival with presentations and demonstrations galore.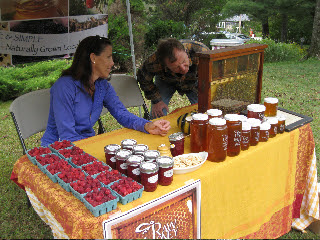 We are still accepting applications for vendors, but hurry because the event is just a month away!  Vendors who have a honeybee-themed or related product pay a reduced vendor fee of $35 (normal vendor fee is $40.)  Booths are 10 x 10 feet.
Admission to the VT Honey Festival is free.  There will be family-friendly activities for kids to enjoy.  Peruse vendor booths to see artists and their crafts, honeybee products, beekeeping supplies, and more.  We'll have a scavenger hunt as well – complete the hunt and win some tasty honey sticks.
For lunch, enjoy wood-fired pizza from Goodman's American Pie's mobile beehive oven.  Some of the pizza is honey-themed, yum!  There will be jams, pickles, produce, and other food for purchase as well – even mead!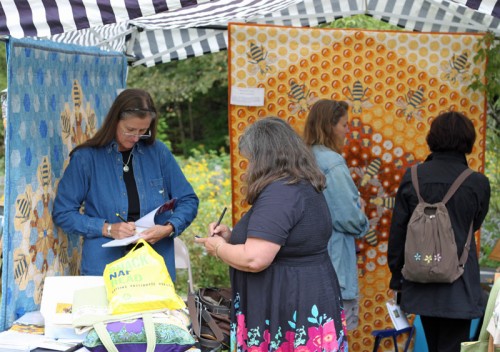 The Vermont Golden Honey Festival takes place on September 13th from 10 am to 4 pm.
Bring a friend because you won't want to miss out on this festival – voted by the Vermont Chamber of Commerce as one of the Top Ten Fall Events for 2014!  See you there!
Contact Julie Wood at the Golden Stage Inn at (802) 226-7744, or email vtgoldenhoneyfestival@gmail.com.