Happy Mardi Gras, everyone! In the spirit of having fun while you can, we want to connect guests staying at our bed and breakfast with Southern Vermont events in nearby towns including Ludlow, Chester, Springfield and Londonderry! Mardi Gras was celebrated in our own town of Proctorsville VT with a celebratory party at the Crow's Cafe Bakery pictured below.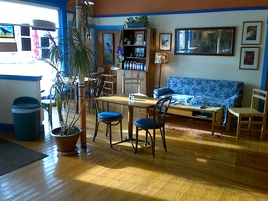 Events for this weekend, March 8th-9th
On March 8th, demo all types of skis and snowboards at Jackson Gore base of Okemo Mountain Resort, just a 7-minute drive away from Golden Stage Inn bed and breakfast. Get your energy up with some delicious maple syrup at the Vermont Country Store's 'Sugar on Snow' tastings during every weekend in March! Yummmm. Two of their locations are not far from our bed and breakfast; one is in Rockingham and the other in Weston. If your sweet tooth is satisfied, keep in mind that our bed and breakfast has a new special for maple lovers during the weekend of March 22nd-23rd, which is Vermont's Annual Open House Weekend for sugarers across the state. March 8th is also Okemo's Light the Night Rail Jam with tons of prizes. If you're looking for fun with the family, 'Who Framed Roger Rabbit' is playing in Ludlow Town Hall at 7pm as part of the town's free film festival.
On Sunday, March 9th, you can learn to ski or snowboard for free at Bromley! They have a new Terrain-Based Learning slope…from the perspective of a snowboard instructor, it sounds like a great way to learn and I might even check it out myself just to see how it works. For foodies or those who want to do some shopping on their way back south, the Taste of Winter Market is happening in Springfield at the plaza from 2-4 pm. There's no produce like Vermont produce.
Next weekend's events, March 13th-17th
On March 13th, The Downtown Grocery, a new farm to table restaurant in Ludlow Vermont, is hosting a benefit event. Each ticket is $75, a steep price but a good cause for constructing a bike path through Ludlow to make our town more sustainable and accessible. The menu includes a five-course meal paired with beer, wine and cocktails. March 14th brings another merry evening of food and drink with Fullerton Inn offering a wine tasting paired with dinner. Looking for music to enjoy? Okemo's Sugar Daze concert series continues March 14th and 15th with Kip Winger at the Sitting Bull  on Friday and Matisyahu at Jackson Gore Base on Saturday. Local band Gypsy Reel will be opening; they are a fantastic blend of Celtic tunes, French Canadian folk and New England roots music…I would go just to see them! They are also playing at the Sitting Bull at 2:30 on Sunday, and at Killarney's St. Patrick's Apres Ski Party on Monday the 17th…St. Patty's Day!
If you visit Vermont in March, we hope to see you soon at Golden Stage Inn Bed & Breakfast in Proctorsville VT!
-Sophi Veltrop, Golden Stage Inn