While waiting out this final stretch of winter, make use of your indoor time with classes at Fletcher Farm School for the Arts and Crafts. Though the snow may keep you inside, you can keep your hands and mind active and create something beautiful and useful. March classes at Fletcher Farm School range across a number of topics, including felting, basketry, weaving and printing. Classes are usually welcoming to every level, so that the "What is felting?!" beginners like me can have just as much fun as experienced print-makers and weavers who are looking for something new. All classes at Fletcher Farm School are from 9 am to 4 pm with a half hour lunch break at noon.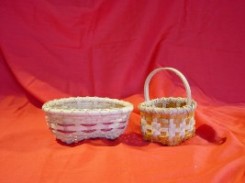 March 15-16: Felt a Flying Owl with Sue Carey
Using wool primarily sourced from Vermont sheep, create your own realistic owl (6-8 inch wingspan). Combining the techniques of wet felting and needle felting, beginning and intermediate felters will leave the class with a beautiful ornament. In addition, the class provides you with a felting needle which you may take home for future felt projects, and a valuable source of knowledge and information regarding various needle and wool types.
March 22: Weave Miniature Baskets with Judy Nevin
Adorable baskets can add to your decor or hold small objects at your desk. Carve the handles and rims yourself before weaving together an Aztec-inspired basket an a Cathead Oval basket. I can imagine my ten-year-old self loving these baskets for my stuffed animals and dolls!
March 23: Weave a Landscape with Carolyn Scott
I had no idea you could weave a landscape – or anything framed and picturesque – until reading about the March offerings for classes at Fletcher Farm School for the Arts and Crafts. Even beginning crafters can design a landscape using simple knotting, embroidery and weaving skills. Ready to hang on the wall the minute you leave!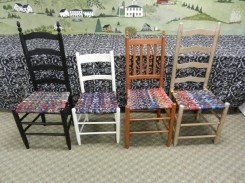 March 29-30: Weave a Necktie Chair Seat with Joyce Fuller
That's right – re-purpose those old neckties into a gorgeous and innovative piece of furniture! Basic sewing skills are required for this class. You will create a strong seat cushion with your own hands, giving new life to both those old neckties and a chair or rocker whose woven or rush seat has been busted. If you need extra ties they will be available for purchase.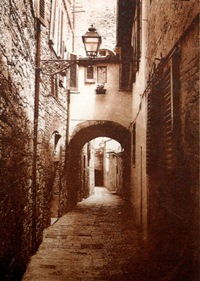 March 29-30: Solarplate Printmaking with Roger Hyndman
Transform original images into high-quality etchings. Using the sun's UV light and no acids at all, you can develop these plates in tap water! The only other tools involved will be your creativity and images and basic tools of the printmaker. Participate in critiques and learn a variety of techniques. Use an Intaglio Press to create limited edition etchings. This class appeals to students of all levels, and artists involved in any media!
Stay at the Golden Stage Inn for your arts and crafts travel weekends, and try out the classes at Fletcher Farm School for the Arts and Crafts for a uniquely creative way to stay busy this March!