At our bed and breakfast near Ludlow, Vermont, we get to brag that we are close to Okemo Mountain and that we have a wonderful historic building with so many modern upgrades – but we sometimes forget to brag about how we source our local food. From the syrup on your pancakes to the smoked bacon on the side, from the coffee in your cup to the butter in your cookies, we focus on local foods as much as we can. It's better for the environment, for our community, and way better for the quality of your breakfasts!
Whether you are on a Vermont ski vacation or you're enjoying some easy summer hikes, our breakfasts are sure to please even the fussiest of foodies. We typically offer only one entrée each morning, so we check in with all our guests in advance as to preferences, allergies, or dietary restrictions. Then we start planning a two course breakfast that is sure to keep you satisfied and happy for hours.
Each breakfast starts with coffee, tea and juice. We purchase our coffee from Mocha Joe's Roasting Company in Brattleboro, Vermont. An "industry leader in social responsibility," Mocha Joe's focuses on Organic, Fair Trade, and Rainforest Alliance coffees – a focus that benefits both the quality of the coffee but also the quality of life for the farmers and regions that grow and harvest the coffee.
Our breakfast's first course often includes a baked good, which is made with Vermont's King Arthur Flour and Cabot Creamery butter. King Arthur Flour of Norwich VT is a destination all of its own – if you're a baker, you'll LOVE their store; if you're not yet a perfect baker, you'll LOVE their baking classes! Cabot Creamery is a farm family co-op based largely in Vermont, though they have four plants in three states. The co-op is owned by 800 farm families throughout New York and New England and they employ over 1,000 people …and they make darned good butter, cheese, yogurt and more.
Speaking of 'yogurt and more' – that's what you're also likely to enjoy as part of your first course. We always serve fresh cut fruit and we serve it with some variation of local delicious dairy. Green Mountain Creamery Greek Yogurt is a popular one – made right here in Vermont, or maybe Vermont Creamery's amazingly smooth and creamy Mascarpone cheese – or maybe their Crème Fraiche for just a lighter touch. No matter which we choose, we're sure to drizzle it with honey from our own beehives. How much more local can you get than the backyard?
And "backyard" brings us to the topic of backyard eggs. We have our own chickens who each donate one daily egg to the breakfast effort, and we supplement with a nearby friend's backyard chickens. Add some sharp cheddar cheese from Vermont Farmstead and serve it with locally smoked bacon from Singleton's General Store or locally sourced sausage from North County Smokehouse and you have a locavore's feast. Maybe we're serving something sweet that day? Surely it'll be topped with pure Vermont maple syrup from Papa John's Sugar Shack in Mount Holly, Vermont.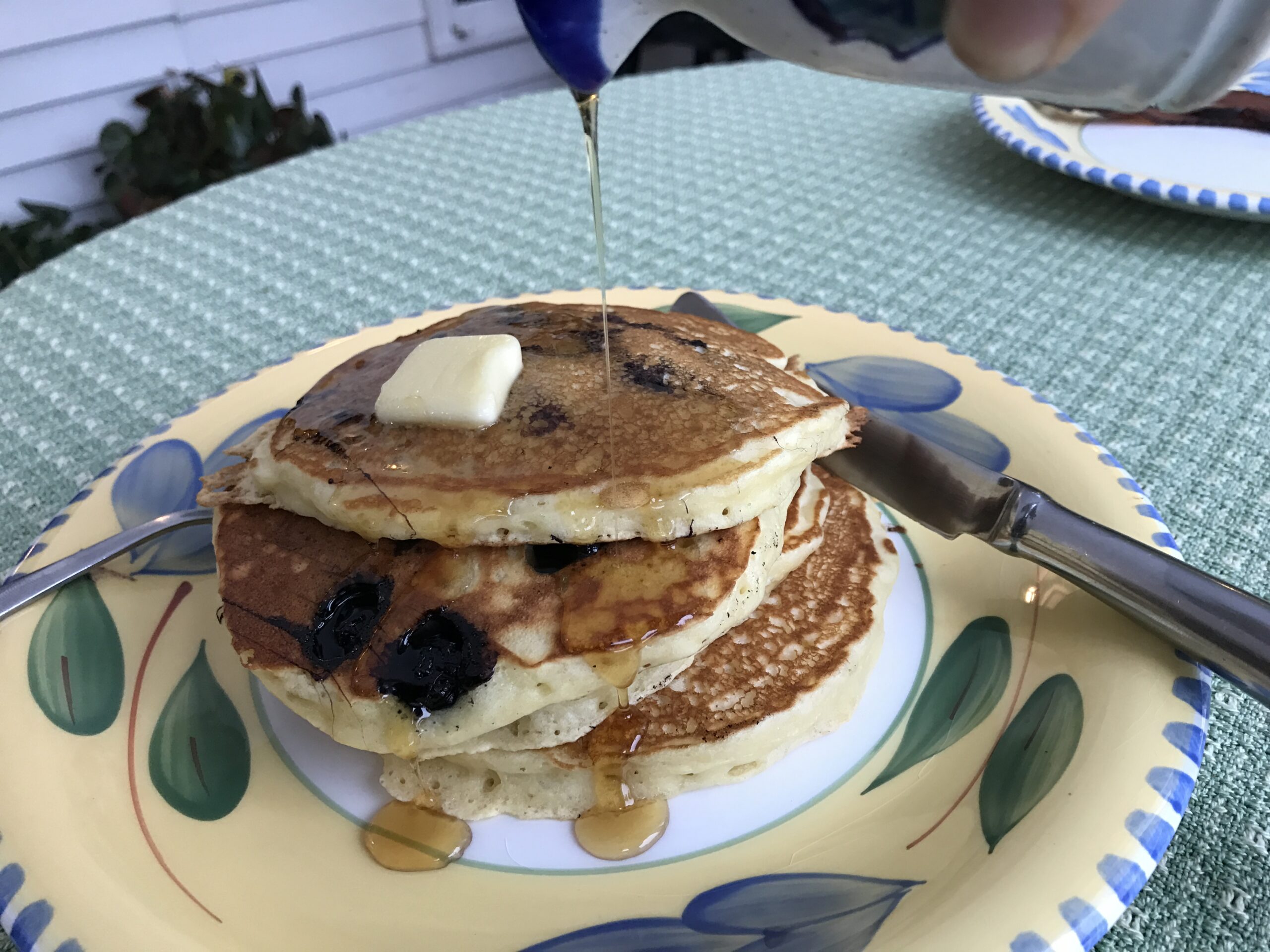 We believe that sourcing locally is as important as baking from scratch. Both contribute to the wonderful flavors and the unmatched quality of the breakfasts we serve. So, when you are given the choice to rise a little earlier for our full breakfast experience before a full day of skiing at Okemo Resort or Viking Nordic Center, you won't be disappointed that you did!