This June, visit the Golden Stage Inn Bed and Breakfast near Ludlow, VT to enjoy two spectacular dinners specially prepared for you by Vermont cooks!  The first will be authentic, homemade Indian cuisine; the second will be a Vermont farm-to-table dinner sourced with fresh, organic ingredients from local farms and fields.  Our specials page will tell you how to book your dinner reservation along with your room or one of our spring specials and packages.  Read on to find out more…but be warned in advance that your mouth may water!
June 7th, 2014: Authentic Indian Food with Lini Mazumdar of Anjali Farm and Lotus Moon Medicinals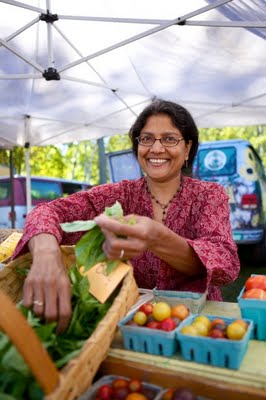 On June 7th, prepare your taste buds for a trip to India…while spending the evening at our Vermont Inn.  Lini Mazumdar has won the Amateur Chef Competition at the Taste of Vermont's Stratton Festival in both 2013 and 2014.  She lives and works on Anjali Farm with her husband and is passionate about sourcing organic ingredients and Vermont local foods as the season permits.  Experience her talent firsthand through the Golden Stage Inn's special Authentic Indian Cuisine Experience.  Arrive around 6:00 pm to enjoy appetizers & beverages, and to meet Lini and watch her cook in the Golden Stage Inn's open kitchen!  Dinner will be served around 8:00 pm, and recipes will be provided for you to take home with you.
The evening's menu will consist of:
Daal (Indian stewed lentils)
Basmati Rice
Spiced vegetables
A meat dish
Raita (seasoned yogurt dip)
Here are some sample dishes from her website to give you an idea of what you might see at our first Vermont dinner evening:
Basmati Rice with peas and onions
Red Lentil Daal with carrots and cilantro
Braised greens and garlic-y potatoes
Carrot and apple Raita
Chicken with ginger-cumin tomato sauce
Aromatic mixed grain pilaf
Green mung bean Daal with ginger & garlic
Homemade Paneer with spinach or peas
Fresh beet-root Raita
Ground lamb with mint, potatoes and peas
Lini Mazumdar also specializes in herbs, as she is a certified Herbalist through the Southwestern School of Botanical Medicine.  She is a certified Ayurvedic Nutrition Consultant and caters Indian food for local Vermonters.  She has created organic Vermont herbal products for sixteen years.  Since moving to Vermont, she has cooked her delicious and healthful Indian cuisine using Vermont local foods and fresh, organic ingredients.  Her passion for plants, organic practices, and medicine translates into the health-inspiring and palate-delighting dinners she creates.  Learn more about her business, Lotus Moon Medicinals.  Anjali Farm has hosted Vermont farm-to-table events and dinners, including…
Vermont Farm Trail's "Community Harvest Picnic" with Chefs Amy Chamberlain, Mike Noyes and Jason Tostrup in 2011
Mach's Traveling Pizza Oven Night in 2009
"A Chef's Harvest" with Chef Michael Noyes in 2007
and The Vermont Fresh Network's very first on-site farm dinner in 2005!
June 21st, 2014: Vermont Farm-to-Table Dinner with Chef Nicholas Matush
By late June, farmer's markets in Vermont will be packed with fresh local produce.  The best way to enjoy the bounty?  Kick back for a delectable five-course meal created by one of Vermont's very best local cooks.  Nicholas Matush creates stunning dinners using Vermont local foods including meat, dairy, vegetables and more. You may even get a taste of Mad Pickler products, grown and pickled at Nick's homestead in Springfield, VT!
Nicholas Matush graduated from New England Culinary School's satellite campus in the British Virgin Islands.  His passion for food extends beyond the kitchen to the farm and soil.  He strives to create meals that please not only the palate, but also the artistic and aesthetic senses.
Nicholas Matush has worked at several fine dining and farm-to-table restaurants across the country, including Little Palm Island in the Florida Keys and Joseph's Table in Taos, New Mexico.  Internationally, he was Sous Chef at Brandywine Bay Restaurant in the British Virgin Islands.  He was honored to be Chef Davide Pugliese's sous-chef at the James Beard House in 2010.  Recently, he has started getting back in touch with the land, creating a pickling business called The Mad Pickler.  See below to admire some of Nick's recent homemade meals!
BYOB cocktail hour for both events starts at 6pm.  Tickets are $50 each, and are limited in supply.  Please order in advance to assure your spot!  We hope to do more dinners like this in the future to support local agriculture and the Vermont farm-to-table movement.  Don't forget to look into our Road Trip Package or Foodies Getaway to make the most of your spring vacation in Vermont!