At our Vermont bed and breakfast, near Okemo Mountain in Ludlow, Vermont, we take our from-scratch breakfasts pretty seriously. And because of the pandemic, we also want to give our guests the option of 'breakfast to go' so that they can get to the mountain early while avoiding the once-crowded dining room of our inn. Adding a 'bagged breakfast to go' option seemed a good idea, but we wanted to be sure the breakfast would be worthy of our high standards for breakfast. We asked ourselves, 'can a breakfast sandwich be fantastic or is it doomed to being merely efficient?' Well, we think we answered that and here's how we aim to make every breakfast sandwich we make absolutely fantastic.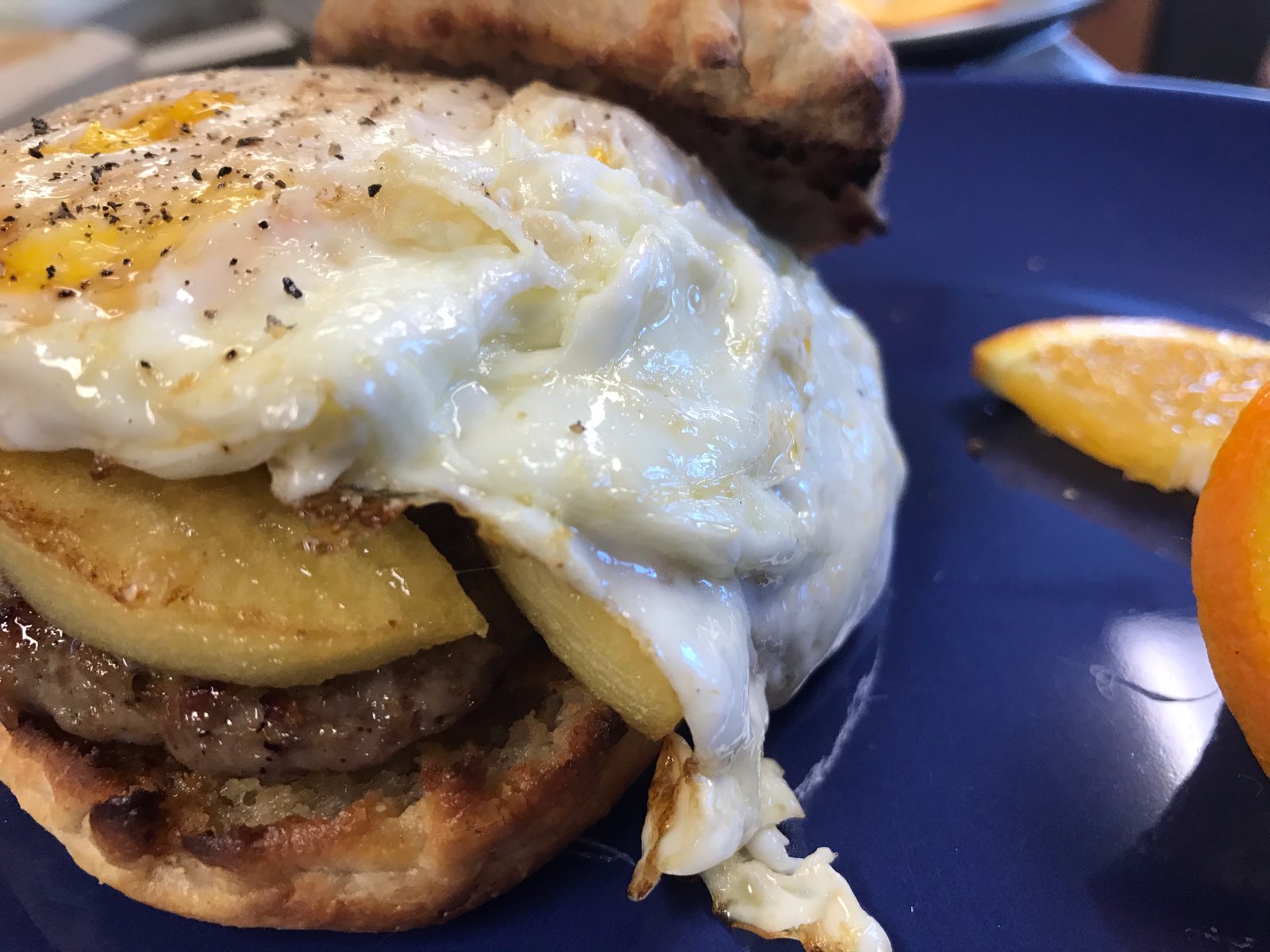 Of course, using fresh backyard eggs is a strong start. And then we add a layer of meat – either locally smoked, thick cut bacon or maybe a local turkey sausage patty. Apples sauteed in local smoked maple syrup sometimes find their way into our sandwiches too. As for the cheese? This is actually a point of marital contention. Julie argues that Vermont cheddar is the only way to go. Michael thinks that an egg sandwich is just one of those foods that needs American cheese. Therefore, this remains a changing ingredient in our sandwiches. (Sort of a signature on the meal… you can always tell which of us gathered the ingredients for sandwich making in the morning!)
Regardless of which cheese gets used, we both acknowledge that the real distinction of our egg sandwich comes from the homemade English muffin. Making these muffins started as a bit of a whim, just to try them out for fun. And now we can never go back to those store-bought muffins – which is a bit of a bummer, because (warning!) these muffins take a while to make. It's not all hands-on time, so you can multi-task with cleaning your kitchen or answering some emails, but you do need to set aside three hours or so from start to finish. And they are SO worth it.
The recipe originally came from Food Network as part of a recipe called "Poached Eggs on English Muffins with Helga's Hollandaise Sauce." We mined that recipe for the English muffins specifically, and we tweaked that recipe just a little bit.
A couple of quick notes… The recipe uses cornmeal; we prefer it as coarse as we can find it. And the recipe suggests using muffin rings. They're very affordable on amazon but they're not at all essential. Just "plopping" the batter down without a ring makes a circle-ish shape that will work just fine for your sandwich. By contrast, using the ring makes a perfect circle which will perfectly match the circle of the fried egg (assuming you use the ring for that too). There is something very satisfying about all the perfectly matched shapes going on there.
Here's the full recipe for our homemade English muffins.
In a large bowl, whisk together, and then set aside:
4 ½ cups flour (we use 3 cups white, and 1 ½ cups white-wheat, but all white is fine)
1 ½ Tbsp yeast (two packets)
1 ½ Tbsp sugar
1 ½ teaspoon salt
In a small bowl, add:
1 ½ cups hot water
3 Tbsp butter
When butter is melted, stir in:
¾ c. cold milk
When the liquids are warm, but not hot, add liquid ingredients to dry.
Stir vigorously with a wooden spoon until smooth.
Cover and let rest in a warm place for 30-45 minutes, or until doubled in volume.
Preheat an electric griddle to 325 / 350.
Spray or brush with oil.
If you have muffin rings, lightly spray them too and place on the griddle.
Sprinkle coarse cornmeal all over the griddle (or just in the rings, if using).
Spray a 1/3 c measuring cup, even on the outside of the scooping side. (The dough is sticky. Dipping fingers in bowl of cold water before touching or shaping batter will help the dough not stick.)
Place piles of 1/3 cup batter on griddle. Leave a few inches between each muffin for slight spreading (but even more so for easier flipping). If using rings, just fill halfway. Batter will rise plenty. Nudge the batter with wet fingers to fill out the circle. Sprinkle the tops with cornmeal.
Cover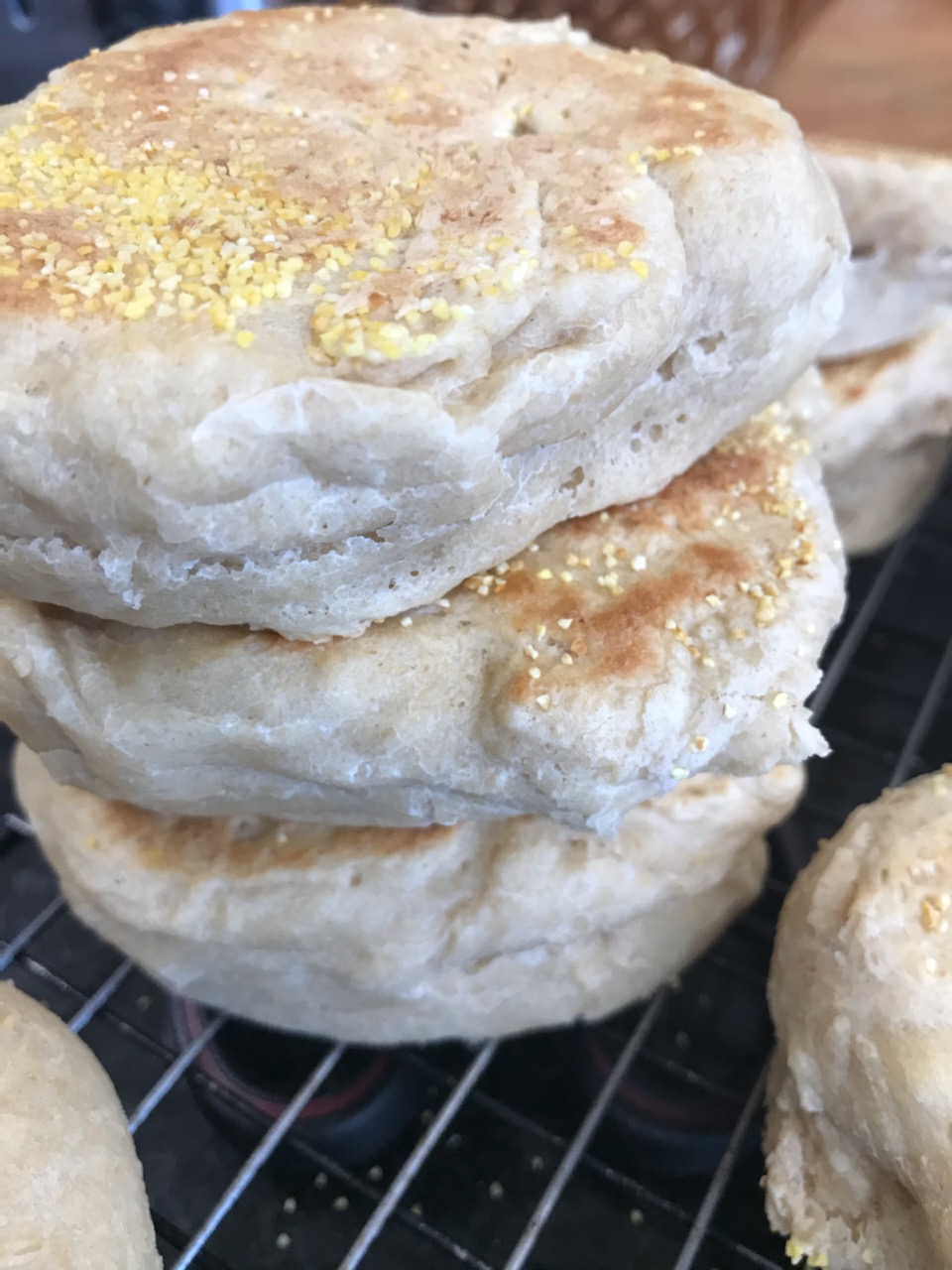 , slightly canted so steam will escape, and cook for 12-14 minutes.
With rubber spatula, flip the muffins. Take off the rings before or after flipping, whichever you can do while burning your fingers the least.
Griddle another 10-12 minutes. Cool on cookie cooling rack.
IMPORTANT! Working around the edges, poke into the center with a fork. Then, when ready to use, pull apart, don't use a knife. This makes a big difference in the finished product, leaving all those nooks and crannies we all love so much.
Once fully cooled, these can be stored in a Ziploc bag for a couple days – or put bag in freezer for longer storage.
Whether these become the base for your next egg sandwich, or maybe you'll broil them and top them with real peanut butter, raw honey, and a sprinkle of Chia seeds, you're sure to love these homemade English muffins.
Whene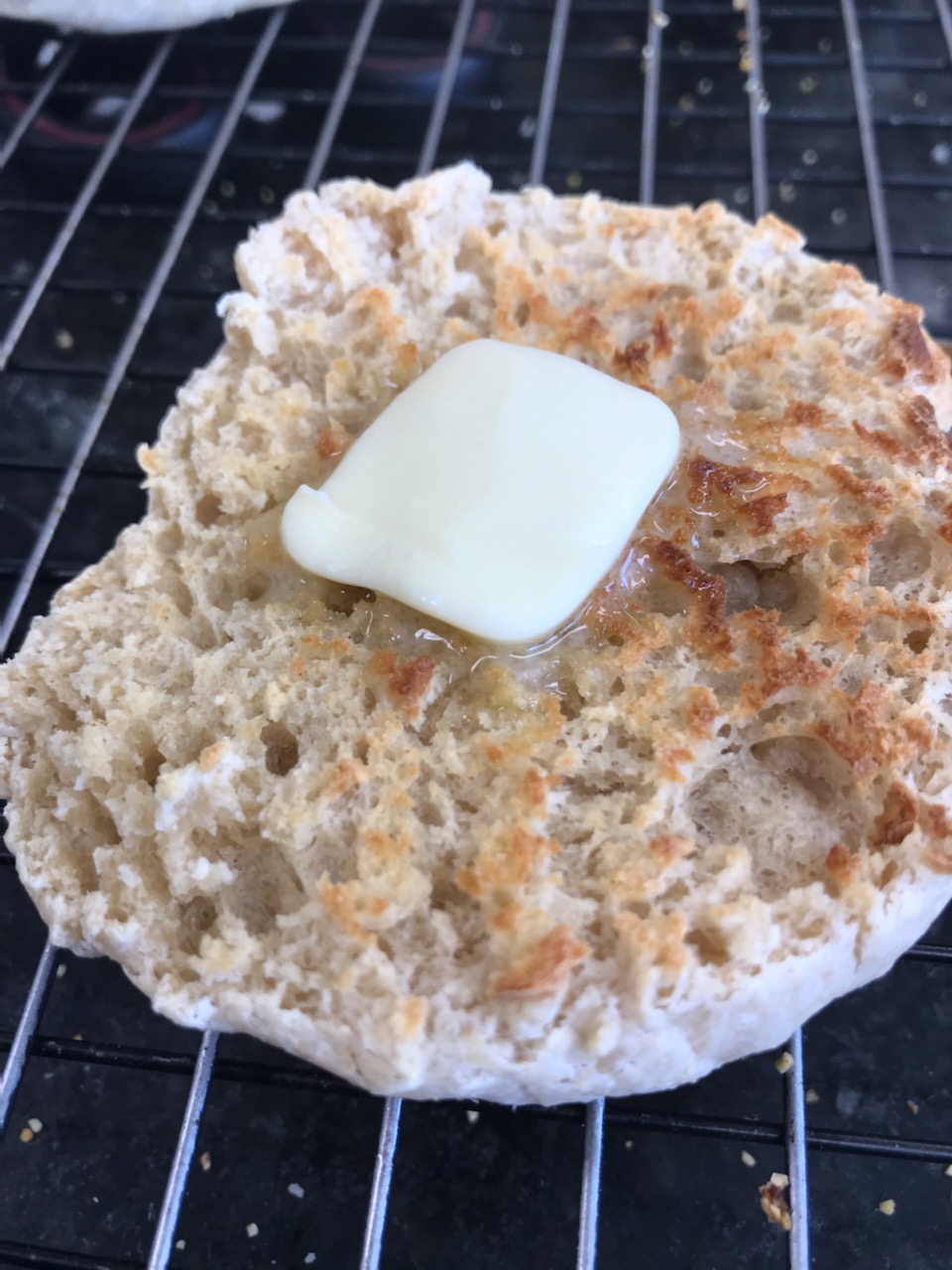 ver you visit our Vermont country inn in southeast Vermont, you'll enjoy homemade from-scratch breakfasts and cookies. We're surrounded by great hiking, some of Vermont's best downhill skiing and cross country skiing, and we're honored to be a part of the Vermont Inn to Inn Walking Tour.