Ludlow restaurants can get a bit overwhelming for families or even couples seeking some relaxation after a day of great skiing. Christmas, New Year's, Martin Luther King weekend and Presidents' Day weekend are the area's busiest times of the year for Vermont ski towns like Ludlow. But a little bit of planning and strategy can go a long way in making dinnertime an enjoyable event. Here are a few dining tips that we think should make your fantastic vacation even better.
Make Reservations
This is a great way to ensure your seat at a table without a wait, but there are a few tricks to making reservations, as well. Some restaurants only take reservations for larger parties; for example, Stemwinder in Ludlow will only take reservations for groups of six or more. Other restaurants might be booked for the holiday period far in advance. The Downtown Grocery is a fine dining restaurant featuring local ingredients; if you want to try it out during the holiday season, call for a reservation immediately when planning your trip. Another amazing locally-sourced dining experience is the Inn at Weathersfield. While they welcome walk-ins, reservations are highly recommended during holidays and weekends, especially for large parties.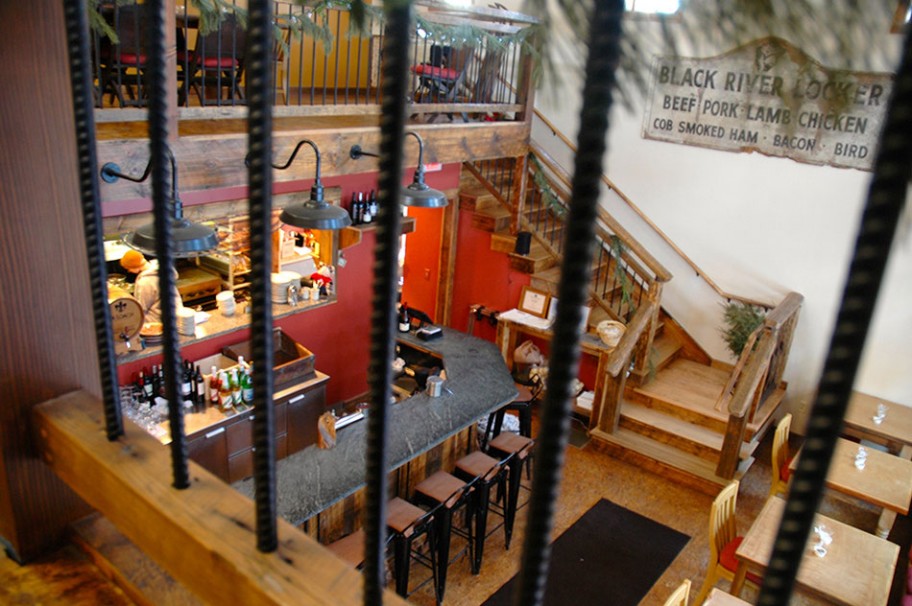 A view of the Stemwinder bar from the upstairs seating! Image from www.stemwindervt.com.
Seek Out New Restaurants
Perhaps you can beat the holiday dining crowd – and the trends – by eating at a newly opened establishment. There are a few new restaurants in the area that are worth a visit.
Homestyle Hostel offers a community dinner with homemade entrees every night at 7:00 pm. They request advance notice of 24 hours if you'll be joining them. This is more of a family-style meal than a restaurant experience, but rest assured that the food is hearty and fresh, with friendly company. There is also a coffee bar, open from 8 am to 8 pm, and beer and wine are served from noon to 8 pm.
Mojo Cafe is a really fun spot to check out. The name of the restaurant was inspired by The Doors, and the orange interior is decked out with rock 'n' roll memorabilia. The food is creative Tex-Mex fusion, offering tacos, Po' Boys, gumbo, enchiladas and creative appetizers. Order a local brew on tap or a glass of wine. Mojo is open Tuesday through Saturday for lunch and dinner (closed between 2 pm and 4 pm). While it is a new restaurant, word is getting out and the space is small, so ordering carry-out might be a safer path to take. (For more on ordering take-out, see below!)
Finally, The Free Range in Chester, VT is a 20 minute drive from Golden Stage Inn, and is located right in the quaint village green. This is more of your typical New England fare, open Wednesday through Sunday for lunch and dinner, with brunch served on Sundays.
A fresh salad from Homestyle Hostel in Ludlow, VT. Image from homestylehostel.com.
Order Take-Out
If you're staying at our bed & breakfast, you'll already know how comfortable it is to eat at the Inn once you've had breakfast in the solarium. Maybe ordering take-out wouldn't quite work when staying at a hotel or motel, but at our B&B, you are welcome to use the common spaces on the first floor whenever you like. You may use our utensils and wine glasses to complete your dining experience. There are a couple great places for take-out in the area, but as with reservations, your best bet is to call early. Call in your order at the end of your ski day, but well before you want to pick it up. You'll have time to head back to the Inn, take a hot shower, enjoy a bowl of homemade soup, and then pick up your supper by the time your belly starts to rumble! Our Inn is BYOB, so grab a bottle of wine at Wine and Cheese Depot, or find beer and liquor at Singleton's or Brewfest Beverage Company.
For a pizza night, place your order at Goodman's American Pie early in the day. Goodman's is certainly the best pizza around, so during the holidays you should place your order before 4 pm. Better yet, leave your order with Mike or Julie in the morning, and they'll take care of placing the order for you (a great idea if you're tearing up the slopes all day!). After 4 pm, there is usually an hour wait time or more for a take-out pie. (Goodman's does have eat-in available too, and they now offer beer and wine.)
Other nearby places for take-out include Harry's Cafe, Sam's Steakhouse, Mr. Darcy's, DJ's, and The Killarney. See our full list of Southern Vermont restaurants and peruse our dining guide in the sitting room when you arrive.
Avoid "Rush Hour"
Maybe you forgot to make reservations. Or maybe you want to dine at two of our favorite restaurants Mr. Darcy's or Sam's Steakhouse (who do not take reservations). Most area restaurants open at 5pm. Try being there by 6 or 6:30 and you should be able to be seated promptly, leaving yourself plenty of time for a relaxing meal. If early dinners aren't your style, , try waiting til 8:30 or so. The crowds should have already done their thing and you can kick back and do yours!
Enjoying meals together should be a treasured part of your vacation. Hopefully with these tips and a little bit of advanced planning, your dinner time can be as special as the rest of your trip.