Wednesday, January 30th is Okemo's 63rd birthday! Okemo has come a long way since operations first began in 1956. When Okemo first opened, the mountain only had two Poma surface lifts. If you've skied Okemo before, you might remember the Poma that was on the bunny hill at the Clock Tower Base Lodge up until a few years ago. The Poma pulls skiers up the slopes, the skiers remaining on the ground all the while. The lower Poma cost 20 cents to ride and the upper Poma cost 60 cents. It wasn't until 1965 that Okemo got its first chair lift, the Sachem Double. Imagine how luxurious a day on the slopes must have felt being able to sit while transported up the mountain after riding the Poma for 9 years! Today, Okemo has 20 lifts, 121 trails, and 667 skiable acres.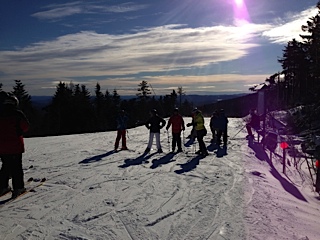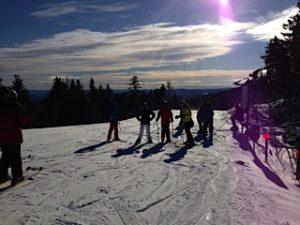 Though Okemo has been bought and sold several times, it has always kept its name of Native American origin meaning "all come home." The meaning of the name is extremely fitting as many skiers from all over really do consider Okemo to be a mountain they consider "home." There's a great lineage, or almost a right of passage, that comes with skiing Okemo. People who ski Okemo often remark on the fact that they grew up skiing the mountain with their parents, and now they're taking their own children out on the slopes.
To celebrate its great history, Okemo has a lot of great events planned for the month of January. Events include a laser light show and a fireworks spectacular on the 19th, a night of family skating to a live DJ on the 20th, two all-day promotional events for safety week; PHAT (Protect Head At All Times) day and the Helmet Head Contest. Then, of course, on the 30th is Okemo's birthday celebration complete with birthday cake, served in the base lodge. Make sure you're at the Clock Tower at 1:00 pm to sing "Happy Birthday" to Okemo!
In addition to the events mentioned prior, there is an awesome program happening in the last week of January (1/28-2/1). The Women's Alpine Adventures is a program is designed exclusively for women looking to boost their confidence on the slopes, learn new skills, and make new friends along the way. It's five days of personal coaching, meals served daily, and an Après ski party and a banquet to celebrate!
The Women's Alpine Adventures sounds like a great program to either venture out on your own and try solo or make a girls trip out of it. I may be bias, but Golden Stage is a great location for a girls trip. Maybe it's because I've seen the variety groups that come to stay with us, but everyone always seems to have fun. Whether it's for the Inn to Inn Walking Tour, the Inndulgence Tour, or just a weekend away, our eight luxurious rooms, homemade breakfast, cozy living room outfitted with games, books, and puzzles galore, and never-ending supply of sweet treats makes it the perfect place to spend with your favorite group of gals.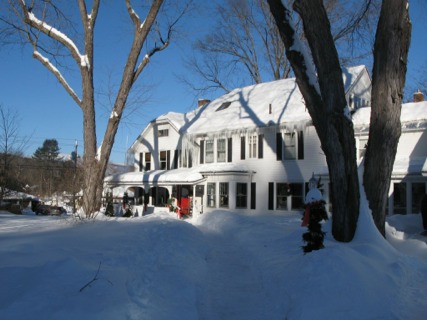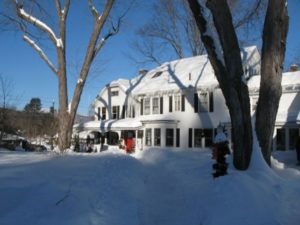 So whether you're making a solo trip to improve your skiing, coming up to hit the slopes with your loved ones, or just taking a weekend away, make sure to check out the great events Okemo Mountain has to offer and make sure to wish the mountain "Happy Birthday!"