Trying new recipes that use local foods is something we frequently do at Golden Stage Inn Bed and Breakfast.  Blogging about them, however, is fairly new to us.  We're glad to share what we learn along our kitchen journeys and would love to hear your ideas  … or even your requests for when you come to visit us in Southern Vermont!
We found this recipe by trying to get our teenage kids out of bed on schooldays. Never an easy task, we devised a new plan.  First one downstairs in the morning, ready for school, gets to pick which new breakfast recipe we'll try (for dinner)!  This plan seems like a good way to get going a few minutes earlier, while also trying out new creative breakfast recipes for the inn — where we love to wow guests with great food.
So when the "first one down" picked Cheese Filled Blueberry Blintzes (stay tuned for this upcoming blog post), a recipe that relies on farmer's cheese, we promptly had to research: what is farmers cheese and how do we get it?   Here is how to make homemade cheese. Well, as for what it is, Farmer's Cheese is a mild and soft white cheese made from milk curds. It is a good melty cheese, like a mozzarella or a ricotta. Since "easy to make" was part of so many of the descriptions, we decided that's how we'd get it.  We found this super easy Homemade Farmer's Cheese on allrecipes.com.  I tailored the recipe's volume to match the amount of raw milk I had in the fridge (3/4 gallon) and then embarked upon my first cheese making conquest!  The "waste product" of this recipe was a surprise bonus. Keep reading…!
The quick summary of the recipe is this:  heat milk; add lemon; wait; strain; refrigerate.  It's that easy.  That said, here's a little more detail —
Ingredients:
¾ gallon of milk (raw preferred, pasteurized tolerated, but not ultra-pasteurized … because really that's just not milk anyway!)
the juice of a medium lemon
a pinch of a salt
Heat the milk with salt until the milk almost boils, stirring frequently to avoid scorching.  (Another recipe warned: don't heat too much or you'll destroy the healthy bacteria in the milk.)
Turn off the heat and stir in the lemon juice.  Wait 5 – 10 minutes for the milk to curdle (starts immediately).    While waiting, line a strainer with cheese cloth, and place the whole set-up in a deep pot that will collect the runoff liquid, more fondly called whey.
Ten minutes later,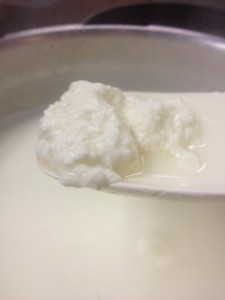 this is about what the milk looks like, er, um, I mean the cheese.  Like magic!
Pour the mixture into the strainer lined with cheesecloth (don't forget the catch pan!) and let drain for a bit, maybe 5 minutes or so.
The remaining whey can be removed by picking up the cheese cloth and squeezing out most of the liquid. (Caution: do not drop your iphone into the curd when trying for a photo.)
For kicks, I weighed the cheese.  Nine-tenths of a pound.
The cheese gets wrapped and put in the fridge for use within a week.
But the unexpected bonus of this recipe was surely the 8 cups of whey.  All that runoff liquid that's no good for cheese is great for a buttermilk replacement in biscuits, pancakes, or even rhubarb coffee cake.  We poured they whey into 2-cup portions and put it in the freezer.  Perfect for future baking!
At seven dollars per gallon, raw milk is rather expensive.  But for this $7 investment, plus under 30 minutes of my time, we got a pound of cheese and a half gallon of healthy buttermilk replacement.  I'm impressed!  Eating local is so often considered a luxury, but this recipe is a reminder that it can also be affordable and practical too.
Coming Soon ….  We'll post the Cheese Stuffed Blintzes recipe that requires this Farmer's Cheese.  Looks SO good!
You can experience homemade farmer's cheese at our beautiful Vermont B&B!