Seasons' greetings and a happy new year to all from the Golden Stage Inn!
Our Christmas Eve of 2013 was as packed with merriment as the Inn's dining rooms were packed with people for our traditional Swedish Smorgasbord.  Guests, family and friends all came together to celebrate the night with good food and good company.  Julie-Lynn's  parents are each half Swedish, so it has become a family tradition to celebrate this joyful time of year with a Christmas Eve Swedish Smorgasbord featuring all varieties of Swedish food, drink and decor.  The Anderson-Wood family members spent the day preparing a multi-course meal – including appetizers, main dishes, and sweets for dessert.  Their efforts certainly paid off!  Supper attendees were welcomed into the living room glowing with a crackling fire and sparkling Christmas tree.  Conversations filled the rooms while we helped ourselves to hot drinks and appetizers.  Guests brought their own beverages as well; a sure hit was the mulled wine, which the Swedes call Glogg (pronounced 'glug').  The decor went far past traditional New England Christmastime to include Swedish-printed tablecloths and painted horses. Paper napkins wished us "God Jul," or "Good Yule" in Swedish, and a few Santa Lucia dolls holding Advent wreaths adorned the tables along with the miniature Christmas trees. Nana Rosemary Anderson, who took the pictures below, was even wearing her favorite blue Swedish sweater for the occasion.
attachment wp-att-1949″>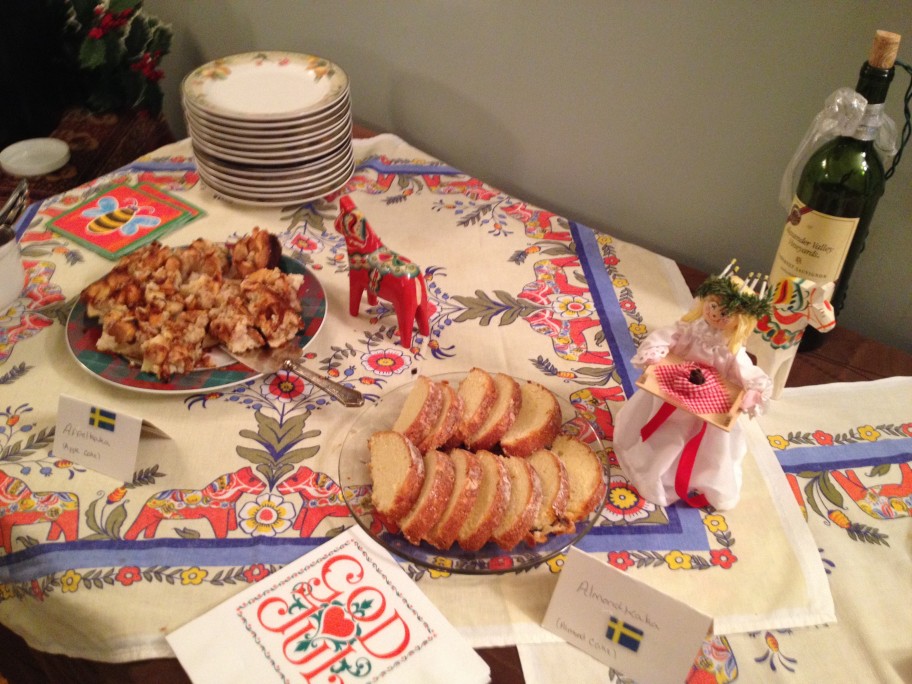 At a little past seven, the main dishes came to the table piping hot and we served ourselves buffet style.  Everyone left with stomachs stuffed after enjoying homemade Swedish meatballs, pickled herring (or sil), beet salad, and potatoes and peppers in cream. A few American favorites such as macaroni 'n' cheese and baked ham made an appearance as well, and were a hit with the teenagers that were present! My personal favorite Swedish Smorgasbord dish was the red cabbage, which is simmered with apples and molasses. Papa Bert Anderson is a staunch advocate of sil and was encouraging everyone to add it to their plate, and several were brave enough to rise to the challenge. My father and a one of my brothers loved it – but reviews from other diners indicated this northern snack may be more of an acquired taste.  When the desserts came around, however, every single mouth was watering in anticipation! There was almond kaka  and apple kaka (cake), perfect for dipping in an after dinner coffee. Spice cookies and dark chocolate covered clementines finished off the array of sweets.  My family headed out once our plates had been cleared and our bellies were ready to undertake the walk back to the car.  We were invited to participate in the event not only because I recently began working for Michael and Julie, but also because we are new to the Okemo Valley area and slowly getting to know the area and its community.  The hospitality and friendship that the Golden Stage Inn family continually extends our way has been perhaps the warmest welcome we've received so far – and we aren't even the guests!  Check out some photos of us and the other dinner guests enjoying this seasonal family-style Swedish Smorgasbord meal at the Golden Stage Inn's Facebook profile.
Until next time; God Jul to all and may your 2014 begin with warmth and joy!
attachment wp-att-1950″>