It's finally here!  Sugaring season in Vermont kicks off with the Maple Syrup Open House Tour this weekend.
Taking a maple syrup trip is certainly a vacation off the beaten path – and one well worth it!  Vermont is a state that knows how to do its festivals right.  If getting out and getting active during the chilly days of March isn't enough of a reason to stay at Golden Stage Inn during sugaring season, here's a whole list…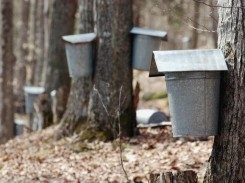 Maple Madness at Woodstock, VT will add excitement to your Vermont maple syrup tour.
Go crazy with all the fun events planned in the quaint Vermont village of Woodstock.  Eat maple butter popcorn on the green and participate in a scavenger hunt…maybe you'll win a basket full of maple prizes!  For any cyclists out there, an Epic Bike Ride on Sunday will connect you between sugarhouses.  A sap bucket auction will be great fun for art collectors as local Vermont artists have individually painted each one.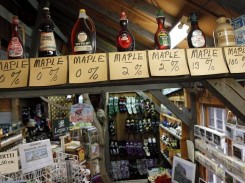 Tour several great sugar houses just down the road from the Golden Stage Inn.
Green Mountain Sugar House will be open both days from 10 am to 5 pm and boiling with modern equipment, weather permitting.  All day there will be free Sugar-on-Snow, coffee, and donuts with maple cream for visitors.  Papa John's Sugar Shack in Mount Holly is also very close by our Bed & Breakfast and will have free maple cotton candy.  In the other direction, you can get to Mitch's Maple in Chester to learn about the process of sugaring from tapping to the finished product.
2014 brings new developments to the Maple Syrup Industry in Vermont!
This year, Vermont has adopted a new grading system of maple syrup.  During your maple vacation, learn the difference by taste.  Do you prefer Golden with a Delicate Taste, or Very Dark with Strong Taste?  How do you know which one to use for pancakes versus baking?  You may also learn about the new technique of tapping maple saplings, which increases the amount of maple syrup produced per acre tenfold!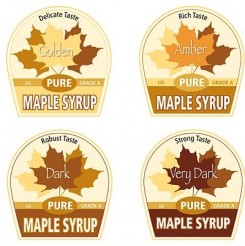 Vermont books and radio will tell you the detailed story of maple syrup.
A maple syrup tour wouldn't be complete without the story behind the product.  Listen to VPR's program about the changes in maple sugaring over the past couple centuries.  A rebroadcast of VPR's 2002 maple program profiles modern day maple sugar producers and features a song by Pete Seeger called "Maple Syrup Time."  Two of Vermont's best books about maple syrup and sugaring will be out in the Golden Stage Inn's cozy living room for you to enjoy during your down time.
And last but not least, Vermont maple syrup is the way to go for any and all maple recipes!
Bring your maple syrup tour back home with you in a bottle and try out all types of recipes from the websites below.
Maple Syrup Goes to Dinner – And Drinks from NPR's 'The Kitchen Window' has two dinner recipes, a maple pecan pie recipe, and shows you how to make "The Old Vermont Cocktail."
The Vermont Sugar Maker's Association has nineteen different tried and true recipes using VT maple syrup.  Some of them include videos to show you the cooking process in detail.
Finally, Vermont Agency of Agriculture, Food & Markets has compiled a lengthy list of maple syrup recipes from Vermont residents and businesses.  The first recipe is from a bed and breakfast owner!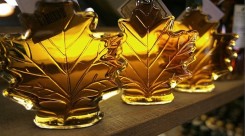 Extend the winter season with a maple tour of Vermont.  The Golden Stage Inn can recommend the best places and events near our Ludlow bed and breakfast, as well as some unique maple products found nowhere but Vermont!  All images used in this blog post are courtesy vpr.net.