About the Inn
The Golden Stage Inn offers Vermont lodging in what was initially a stagecoach inn that sheltered travelers before Vermont became a state in 1791. The original part of the building was built in 1788, but most of the sprawling common rooms and bedrooms were added in the late 1800s.  Historically part of the Underground Railroad and later becoming the residence of prominent Universalist minister and his stage-famous descendants, Golden Stage Inn invites you to become part of its still-evolving story.
The Innkeepers and their family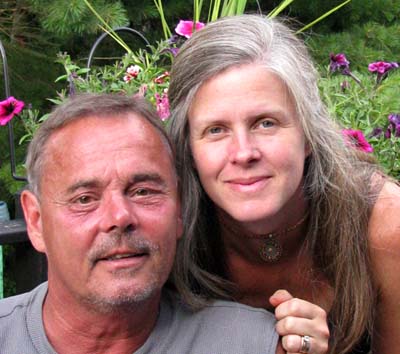 Michael and Julie have been together for about 20 years.  Since their dating days, Michael and Julie dreamed of running a bed and breakfast in Vermont.  Their first date was skiing at Okemo Mountain in Ludlow VT, they got married at a Vermont bed and breakfast, and they took a vacation in Vermont every chance they could get.  But traditional life responsibilities kept them from realizing their dream for many years.  Michael successfully pursued a career as a CPA while Julie stayed home with the kids and earned her degree to teach high school English.  After Michael's first two children (Brigid and Mike) were grown and independent but before their two younger daughters (Sam and Sadie) entered high school, Mike and Julie saw their chance to make their move to Vermont.  Two years of searching for just the right Vermont lodging business brought them to Golden Stage Inn in Proctorsville, Vermont.  Although always missing their families and friends of Massachusetts, the entire Wood family is thrilled with their new Vermont life.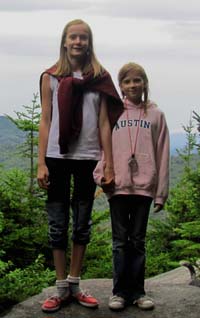 Living at the inn are Mike and Julie's daughters, Samantha and Sadie.  This picture is getting outdated …they just grow so fast!  Samantha is now 16 years old and loves singing, acting and relaxing at home with the family.  Sadie is 13 years old and loves acting, shopping (uh-oh!) and hiking.
Melissa is our housekeeping manager at Golden Stage Inn.  She is also an interior painter, a kitchen assistant and a receptionist.  A lifelong Cavendish resident, she knows the area and is willing to help guests plan their travels!  Sophi Veltrop joined the Inn as a marketing assistant in 2013.  Take a peek at our blog to see more of what she does.  This year, we're thrilled to welcome Sarah Purdy, author and lifelong Chester resident, to the housekeeping team.
We look forward to offering you Vermont lodging that exceeds expectations.