One of Vermont's Best Bed & Breakfasts…
…at some of Vermont's best rates.  Featuring seasonal and year-round getaway packages for couples, families and retreats.  Our full breakfast service and quality amenities are included with all of our inn packages.  Please mention the bed and breakfast package of your choice when making your reservation.  Only one package or promotional discount may be used per stay.
Our Bed and Breakfast Specials change seasonally, so always be checking back to see our latest new package or event!  We look forward to making your vacation memorable with one of our Vermont bed & breakfast deals.
Vermont Ski and Stay Savings
Planning a ski trip this winter?  Try a ski and stay package for affordability and convenience.
With Golden Stage Inn, you'll save on lodging when you make a reservation of two nights or more.  Save 20% on your room rate when you make a midweek reservation.  Weekend reservations receive a 10% discount.  Please note that these savings are not available during holiday periods (Christmas/New Years week, MLK weekend, and President's week).
In addition, you can order à la carte Okemo lift tickets through us, saving you up to $14 per person per day.  Pricing details are listed below.  Access these Vermont ski and stay savings by making a reservation online, or mention them when you call the Innkeepers at (802) 226-7744.
As always, your reservation includes delicious two-course breakfasts.  You'll be welcomed back from the ski slopes with hot cider, coffee and tea, and warm homemade soup.  Enjoy unlimited access to the bottomless cookie jar and, on Saturday nights, Michael's famous chocolate cake.  A few of our rooms have cozy fireplaces, as do two of our sitting rooms.  Check back for information on to-go lunches from the Inn – saving you even more when you consider the steep prices of slope-side dining.
Vermont Ski and Stay Savings on Okemo Lift Tickets
Weekend and Holiday Rates
Adults – $80  (retail value $92 weekends, $94 holidays)
Young Adults – $70  (retail value $81 weekends, $83 holidays)
Juniors – $60  (retail value $70 weekends, $71 holidays)
Midweek, non-holiday rates
Adults – $70 (retail value $82)
Young Adults – $70 (retail value $72)
Juniors – $70 (retail value $62, so you may consider purchasing these tickets at Okemo.)
I hate malls!
Dread holiday shopping?  Hate the mall?  We've come up a solution that's sure to please even the most-anti-shoppers out there.  (Trust us, we're qualified for this!)
Find great gifts at  local, independently owned shops during the day, then unwind by the fire with an evening cocktail and a complimentary wood-fired pizza… AND get those presents wrapped and ready for the holiday!  We provide you with a gift certificate for a Goodman's American Pie pizza and the wrapping supplies you'll need.  All you need to do is make a shopping list and a reservation!
Book any double occupancy room for any night Nov 4 through December 15 and enjoy the rate of $129 (plus tax).  (Yes, any room — this is a great way to check out our newly renovated guest rooms with cozy fireplaces and gorgeous bathrooms!)  A savings of up to $80 per night.

Here's the plan:
Step 1: Make your inn reservation with the "I hate malls!" special rate of $129 (plus tax) for any time between November 4 and December 15.
Step 2:  Request a list of our favorite places to shop, complete with many discounts exclusively offered to our guests.  Then head out to browse the unique, independently owned shops, never once enduring a mall's stark fluorescent lighting, Muzak, or emaciated mannequins.  You'll find original artwork and children's toys, jewelry and pure maple syrup, funky clothing and kitchen gadgets.  When you need a snack to keep you fueled, you're sure to find a great café just around the corner rather than an all too familiar chain restaurant.
Step 3: Redeem your gift certificate for Goodman's American Pie and bring a wood-fired pizza back to Golden Stage Inn's cozy sitting room.  Grab your favorite cocktail and settle in by the fire. We'll supply you with all the wrapping paper, scissors, and tape you'll need, so that you can disguise all your gifts before bringing them home.  Add some homemade cookies for dessert and a great night's sleep, then awake to have all your (non) efforts rewarded with our classic two-course breakfast.
Barely sounds like shopping, right?  That's the whole point!

Book for two nights and you can come up the night before, maybe stopping at a restaurant along the way.  This will give you time to create your list and maybe get a little online shopping done while you sip on hot cider, tea or coffee by the fire before bed.  (We have complimentary wi-fi throughout the whole house.)  And then you'll wake at the inn, ready for "Step 1" above, after enjoying our full 2-course breakfast — the best ammunition for a day of not-mall shopping!
Who needs to wait for Black Friday?   Make your reservation now and and relax about the shopping thing.  It's going to be good this year!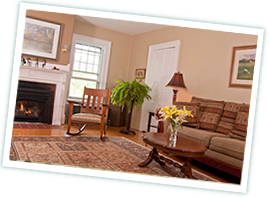 Voluntourism
Community Work plus a Vermont Vacation equals a great combination!
At Golden Stage Inn, we truly appreciate the work of community volunteers.  As our way of supporting  those who work to improve our community and environment, we are offering "voluntourism" vacation packages.  So far, we have teamed up with one great non-profit, Black River Action Team (see below), but we are hoping to add to our list of partners in the future.  Have suggestions?  Let us hear them!
Golden Stage Inn offers all volunteers:
10 – 25 percent discount on your lodging (based on season and length of stay),
a Golden Stage Inn tote bag, and
a lunch sack filled with homemade cookies.
Keep reading.  Sometimes we'll add more and sometimes our partner organization will offer goodies too!
Black River Action Team (BRAT)
BRAT's mission is to achieve and maintain a thriving river ecosystem through organized clean-ups, invasive species removal, educational workshops, and related community efforts.  See
their website
or contact Kelly, BRAT's director, via email (blackrivercleanup@yahoo.com) to learn of upcoming volunteer opportunities.
Golden Wedding Anniversary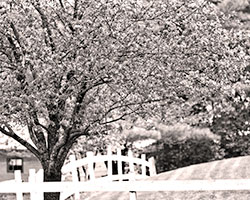 Stay at the Golden Stage Inn on your Golden (50th) wedding anniversary for $50 (plus tax).  Congratulations!  You've earned it!!