One of Vermont's Best Bed & Breakfasts…
…at some of Vermont's best rates.  Featuring seasonal and year-round getaway packages for couples, families and retreats.  Our full breakfast service and quality amenities are included with all of our inn packages.  Please mention the bed and breakfast package of your choice when making your reservation.  Only one package or promotional discount may be used per stay.
Our Bed and Breakfast Specials change seasonally, so check back to see our latest new package or event!  We look forward to making your vacation memorable with one of our Vermont bed & breakfast deals.
Fletcher Farm Students Receive 50% Off
Taking a class at Fletcher Farm School? Students receive 50% off lodging at Golden Stage Inn for the months of April and May on reservations of 2 nights or more! Call the innkeepers at (802) 226-7744 or email us at innkeeper@goldenstageinn.com
April Fletcher Farm Classes
Fabulous Fibers, Primitive Stencil Apple Checkerboard, Playful Painting with Alcohol Ink, Painting Spectacular Flowers in Watercolor, The Wonder of Color, Introduction to Silversmithing
May Fletcher Farm Classes
Primitive Stencil Floorcloths and Placemats, Painting in Acrylics, Digital Imaging, Pastel Painting Streams and Waterfalls, Intaglio Printmaking Workshop, Introduction to Silversmithing, Living Willow Structure for the Garden
June Fletcher Farm Classes
Fantasy Felting, Creative Art Class for Young Artists
Rent the Inn for your gathering!
Planning a family reunion, small wedding, or retreat? Reserve at least 5 rooms at Golden Stage Inn for a 15% discount–plus, we'll block off the rest of the Inn so that you and your party will have it all to yourselves! Our common spaces are perfect for meetings, workshops, or just hanging out and having fun.
Your reservation includes breakfast each morning for everyone. (Please let us know about any dietary restrictions; we are happy to accommodate your needs!) Our homemade, two-course breakfasts often include local ingredients, such as eggs or honey from our backyard. Help yourself to hot tea, coffee and cookies throughout the day, and enjoy our signature chocolate cake on Saturday nights. Each comfortable room comes with a variety of amenities. All guests have access to fridge space, Wi-Fi, wine glasses, books, puzzles and games. When the weather warms up, enjoy our in-ground pool.
Have any special ideas for your gathering? We're happy to recommend activities, dining, and events that suit your needs.
This "Rent the Inn" special is available April through June, and will be offered again in November. There is no minimum night stay required. Contact the Innkeepers at (802) 226-7744 or innkeeper@goldenstageinn.com for more information.
Voluntourism
Community Work plus a Vermont Vacation equals a great combination!
At Golden Stage Inn, we truly appreciate the work of community volunteers.  As our way of supporting  those who work to improve our community and environment, we are offering "voluntourism" vacation packages.  So far, we have teamed up with one great non-profit, Black River Action Team (see below), but we are hoping to add to our list of partners in the future.  Have suggestions?  Let us hear them!
Golden Stage Inn offers all volunteers:
10 – 25 percent discount on your lodging (based on season and length of stay),
a Golden Stage Inn tote bag, and
a lunch sack filled with homemade cookies.
Keep reading.  Sometimes we'll add more and sometimes our partner organization will offer goodies too!
Black River Action Team (BRAT)
BRAT's mission is to achieve and maintain a thriving river ecosystem through organized clean-ups, invasive species removal, educational workshops, and related community efforts.  See
their website
or contact Kelly, BRAT's director, via email (blackrivercleanup@yahoo.com) to learn of upcoming volunteer opportunities.
Golden Wedding Anniversary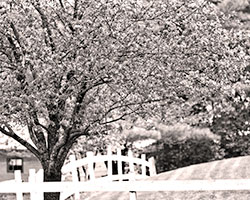 Stay at the Golden Stage Inn on your Golden (50th) wedding anniversary for $50 (plus tax).  Congratulations!  You've earned it!!