One of Vermont's Best Bed & Breakfasts…
…at some of Vermont's best rates.  Featuring seasonal and year-round getaway packages for couples, families and retreats.  Our full breakfast service and quality amenities are included with all of our inn packages.  Please mention the bed and breakfast package of your choice when making your reservation.  Only one package or promotional discount may be used per stay.
Our Bed and Breakfast Specials change seasonally, so always be checking back to see our latest new package or event!  We look forward to making your vacation memorable with one of our Vermont bed & breakfast deals.
Vermont Ski and Stay Savings
Planning a ski trip this winter?  Try a ski and stay package for affordability and convenience.
With Golden Stage Inn, you'll save on lodging when you make a reservation of two nights or more.  Save 20% on your room rate when you make a midweek reservation.  Weekend reservations receive a 10% discount.  Please note that these savings are not available during holiday periods (Christmas/New Years week, MLK weekend, and President's week).
In addition, you can order à la carte Okemo lift tickets through us, saving you up to $14 per person per day.  Pricing details are listed below.  Access these Vermont ski and stay savings by making a reservation online, or mention them when you call the Innkeepers at (802) 226-7744.
As always, your reservation includes delicious two-course breakfasts.  You'll be welcomed back from the ski slopes with hot cider, coffee and tea, and warm homemade soup.  Enjoy unlimited access to the bottomless cookie jar and, on Saturday nights, Michael's famous chocolate cake.  A few of our rooms have cozy fireplaces, as do two of our sitting rooms.  Check back for information on to-go lunches from the Inn – saving you even more when you consider the steep prices of slope-side dining.
Vermont Ski and Stay Savings on Okemo Lift Tickets
Weekend and Holiday Rates
Adults – $80  (retail value $92 weekends, $94 holidays)
Young Adults – $70  (retail value $81 weekends, $83 holidays)
Juniors – $60  (retail value $70 weekends, $71 holidays)
Midweek, non-holiday rates
Adults – $70 (retail value $82)
Young Adults – $70 (retail value $72)
Juniors – $70 (retail value $62, so you may consider purchasing these tickets at Okemo.)
Voluntourism
Community Work plus a Vermont Vacation equals a great combination!
At Golden Stage Inn, we truly appreciate the work of community volunteers.  As our way of supporting  those who work to improve our community and environment, we are offering "voluntourism" vacation packages.  So far, we have teamed up with one great non-profit, Black River Action Team (see below), but we are hoping to add to our list of partners in the future.  Have suggestions?  Let us hear them!
Golden Stage Inn offers all volunteers:
10 – 25 percent discount on your lodging (based on season and length of stay),
a Golden Stage Inn tote bag, and
a lunch sack filled with homemade cookies.
Keep reading.  Sometimes we'll add more and sometimes our partner organization will offer goodies too!
Black River Action Team (BRAT)
BRAT's mission is to achieve and maintain a thriving river ecosystem through organized clean-ups, invasive species removal, educational workshops, and related community efforts.  See
their website
or contact Kelly, BRAT's director, via email (blackrivercleanup@yahoo.com) to learn of upcoming volunteer opportunities.
Golden Wedding Anniversary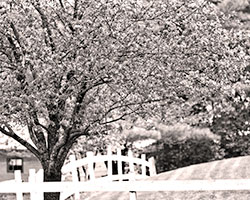 Stay at the Golden Stage Inn on your Golden (50th) wedding anniversary for $50 (plus tax).  Congratulations!  You've earned it!!