Vermont is known for many things – winter skiing, maple syrup, green mountains – but perhaps most well known and loved is cheese!  From the cows lining the fields to first-class restaurants, cheese is an ever present fact of Vermont life and food.  This summer, try out a new recipe, visit a festival, and even make your own farmer's cheese!
Goat Cheese and Flowers
I often think of cheese as delicious, but rarely would I call it 'beautiful' (especially not the goop that emerges from a freshly cut wedge of Camembert!)  But if you love goat cheese as much as I do, you are always looking for new ways to enjoy a fresh and fragrant roll of chevre.  Try this unique recipe for goat cheese rolled in edible flowers as both a palate-pleaser and a show-stopper.  The recipe below is re-posted from Healthy Living Market & Cafe's blog.
"First, prepare your flowers and herbs.  Coarsely chop about 2 Tbsp of dried rosemary, remove the petals from about 2 Tbsp of dried calendula flowers, coarsely chop about 2 Tbsp of dried rose petals, and crush about 1 Tbsp pink peppercorns using a mortar & pestle or even just a rolling pin (note: all of these ingredients are available in our extensive Bulk Department!).  Mix all these together on a flat surface such as a cutting board.  Next, take a 10-oz chèvre log (we used one from Vermont Creamery) and roll it in the floral mix, pressing gently to make sure the flowers stick.  You may need to do this a couple times to coat the chèvre completely.  Then, to serve, spread a little bit of the floral chèvre on crackers, topping each with a touch of honey.  Tada!"  (Photo: Healthy Living Market & Cafe)
Cheese Up Close
There are dairy farms all across Vermont, in all shapes and sizes.  Not only do they provide us with creamy edibles, they are a living history and cultural tradition of our state.  Vermont cheesemakers take pride in their land, their animals and their product.  Dairy farming is one of the most difficult agricultural jobs around, and you can get a taste of place by visiting one of these farms in person.  Dig In VT has a fantastic map of cheesemakers across Vermont, so you can plan your own cheese tour and tastings.  You can learn about how cheese is made and taste test varieties to find your favorite.  Maybe you'd like to meet the animals in person – usually cows, but also sheep and goats on occasion.  Our personal favorite VT cheesemaker here at Golden Stage Inn is award-winning Crowley Cheese in Mount Holly, VT.  Crowley is a quick 20 minute drive away, as you leave the Inn and cross through the town of Ludlow on your way.  Julie is in love with their cheddar, and uses it as an ingredient in guests' breakfasts often!
 Vermont Cheesemakers Festival
Though a bit of a trek away from Golden Stage B&B, the Vermont Cheesemakers Festival is an annual summertime food festival not to be missed.  This year, it was one of Lonely Planet's best American food festivals for the summer of 2014!  Located in Shelburne, VT, attendees can participate in demos, workshops and presentations free with admission.  There are over 200 cheese, wine and food products to sample as well.  Since Vermont has the highest number of cheesemakers per capita of any state in the USA, this had better be good!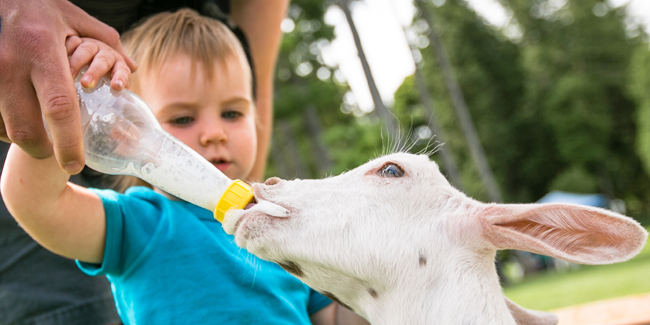 (Photo: VT Cheesemakers Festival)
Finally, if you're interested in making your own cheese by hand, check out Golden Stage Inn's recipe for how to make your own farmer's cheese!