At our Vermont B&B, we're often complimented on our breakfasts, but our banana bread recipe seems to get an extra dose of respect …and requests for the recipe itself. You can imagine that the guests who are here for hiking or skiing want a delicious breakfast that will keep them full all day — and this recipe will help do just that. Before we begin, here are a few of our tips to perfecting your own loaf of homemade banana bread goodness:
Make sure the bananas are old. Really old. Many people make banana bread when the fruits' skins are dark yellow with a few brown spots…go for total over-ripeness and wait a few more days for the skins to blacken. We promise these super-ripe bananas are not only completely safe to eat but absolutely essential to making delectable banana bread!
If you're looking for healthier and heartier versions of banana bread, add some ground flax to this recipe when you add the flour (start with 1/4 cup and work your up if you like it) or add a cup of oatmeal (decreasing the flour by a half cup).  Another way to add heartiness is to increase the ratio of wheat flour and/or decrease the amount of sugar.   These variations will diminish the silky smooth texture of this banana bread, but I think it's well worth the added health benefits.
This recipe makes 1 single loaf or 3 mini loaves or 1 dozen muffins.
Ingredients
1 teaspoon lemon juice
2/3 cup milk
1/2 cup butter, softened
1 cup sugar
2 eggs, lightly beaten with a fork
3 very overripe bananas, mashed
2 cups white wheat flour (or use 1 cup white flour and 1 cup wheat flour)
1 teaspoon baking soda
1/2 teaspoon salt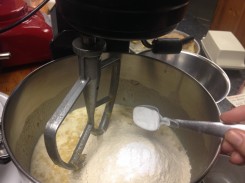 The Banana Bread Recipe

1) Preheat the oven to 350°F. Grease your baking tin(s).
2) Add the lemon juice to the milk, stir and set aside. (It will curdle.  This is good.)
3) Cream together the butter and sugar.  If unsure how long this takes, do it a little longer than you think.
4) Add the eggs and bananas to the butter and sugar, and mix.
5) Add half the flour (one cup), baking soda, and salt. Mix.
6) Add the milk & lemon juice that you set aside at the beginning. Mix again.
7) Add the rest of the flour (one cup) and mix for the last time! Mix just until blended. Do not overmix.
8) Pour your finished mixture into your greased pan.
9)Bake until edges are golden brown and a toothpick comes out clean.  Use the cooking times listed below as a guideline, but remember that the bread continues to cook a bit after removing it from the oven.  An overcooked bread is a terrible thing!
For a single loaf pan, bake for 60-70 minutes.
For three miniature loaves, bake for 40 minutes.
For muffins, bake 18 minutes.
And voila – you have warm, banana-flavored clouds of home-baked heaven.