Rise and Shine with a Golden Breakfast!
As Innkeepers of a premiere bed and breakfast, we take our morning routine pretty seriously.  You've got a full day ahead of you and we want to be sure you have the energy to make the most of your time in Vermont.  We partner nutrition with indulgence, and familiar with fancy. In this way, we strive to please even the pickiest palate.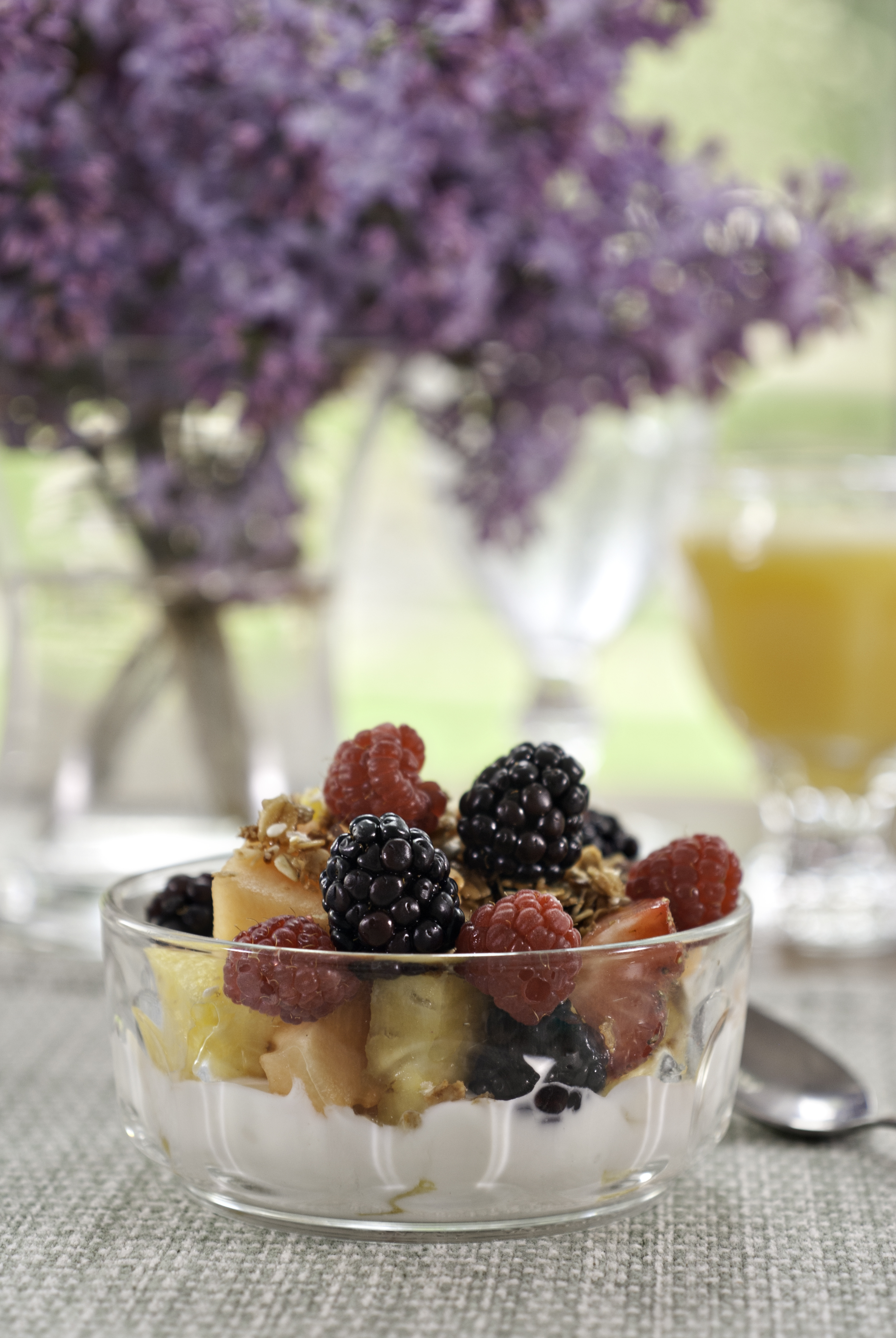 Your breakfast starts with a visit to the self-serve coffee & tea station where freshly brewed Green Mountain Coffee awaits you.  After you're seated, we'll offer you a glass of select juices and then deliver your starter course.  A typical first course would include a bit of yogurt laden with fresh fruit and our very own honey, served alongside a freshly-baked good.  Crumb coffee cake, berry muffins, and candied ginger scones are just a few of our recurring favorites. The entrée of the chef's selection is then served.  Some of our more popular offerings include:
Buttermilk pancakes with or without blueberries, drizzled with local syrup
Maple caramelized apples on homemade bread with gruyere cheese
Spinach, tomato, and goat cheese frittata
Baked eggs from our own free-range hens in a maple bread basket
Cranberry-walnut whole wheat pancakes
Breakfast burrito with herbed cheddar and a roasted tomato & egg scramble

The Myriad Edible Delights
of Golden Stage Inn
You will be full and smiling after our delicious two-course breakfast…but don't forget about all the other homemade baked goods and local treats at our Vermont Country Inn!  If the summer afternoons are hot enough, we may serve "Haymaker's Punch," a ginger-honey lemonade traditionally enjoyed during haying season to fight allergies and boost energy while in the field.  (Never fear, we have a relaxing pool you can enjoy it by – the most work you'll do is kicking up your feet or perhaps going for a dip!)  Winter afternoons are perfect for our hot apple cider, mulled for hours with oranges and spices, and best enjoyed while reading by the fireside.
Winter Soups
On winter weekends and holiday weeks, skiers and travelers are warmed with a crock of homemade soup, often coupled with bread baked just that afternoon.  Whether Creamy Mushroom & Wild Rice or Pumpkin with Black Beans, our soup is always fresh off the stove top and sure to tide you over until you head out for dinner at one of many nearby restaurants. (Ask your innkeepers or peruse our extensive dining guide for recommendations or reservations.)
Cookies and Chocolate Cake
The smell of cookies may escape from the kitchen towards the living and dining rooms, as we're consistently filling the bottomless cookie jar with different varieties.  Some of the more frequent varieties include as Toll House Chocolate Chip, Chewy Oatmeal Craisin, or Molasses Crinkles.  If it's Saturday, be sure to leave room for dessert, because this is when Michael serves his signature "Saturday Night Chocolate Cake."  Moist and rich, this cake is the perfect conclusion to a full day.
"BYOB"
You are welcome to bring your favorite beverages to the inn.  We have openers and glasses for your use, and you are most welcome to store items in our refrigerator.  Explore the extensive locally made wines and malts at nearby liquor stores such as the Wine and Cheese Depot, the Brewfest Beverage Co., Meditrina, or Joe's Discount Beverages.
Special Diets, Allergies, and "Plain Vanilla" Eaters
For picky eaters, the idea of a single entrée selection can be daunting, and for those who have allergies or specific dietary restrictions, eating the wrong thing can have unpleasant or severe results.  At Golden Stage Inn, we are happy to accommodate your dietary requests.  While here, you don't have to worry about unknown ingredients; virtually everything is made from scratch so we know exactly what is in our meals.  Please let us know of your special requests when you make your reservation so we can take care of your needs.  If you are gluten free, lactose intolerant, vegetarian, vegan, or just plain old picky, you will not leave our table dissatisfied.
When is breakfast served?
Most of the year, we serve breakfast between 8am and 9:30am, but we often make early exceptions by request and on winter weekends.  On winter weekends, when the slopes open at 8am, we begin offering breakfast at 7am to ensure you don't miss any of the freshly groomed trails.  You'll always have access to our Keurig brewing machine, too.  Dining is private, with individual seating times, at your own table.